Cop, firefighter among 24 charged in child luring sting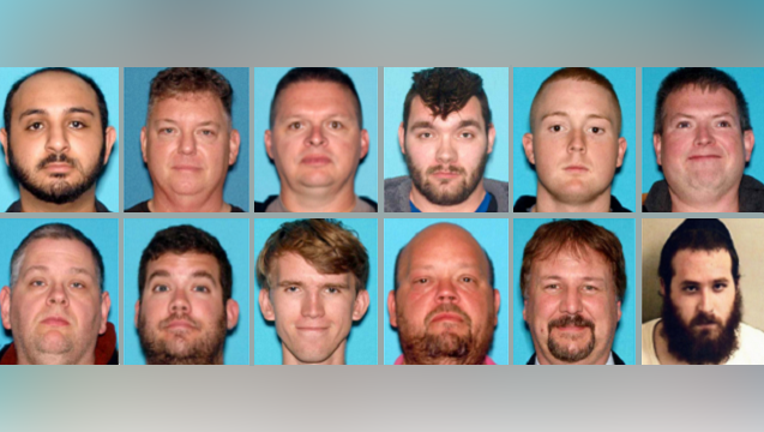 article
TRENTON, N.J. (AP/FOX29) - New Jersey authorities say a police officer and a firefighter were among 24 men who tried to lure teenagers for sexual activity.
Attorney General Gurbir Grewal says the men charged in the statewide sting used social media and chat apps to communicate with people they thought were teenage boys and girls. But they were actually talking with undercover officers.
Those charged in "Operation Open House" were arrested this month at a Toms River home where they expected to meet the children, who they thought were home alone. Among them was a police officer who claimed he was a 19-year-old boy and believed he was chatting with a 15-year-old girl.
Investigators say Howell Township police sergeant, 47-year-old Richard Conte claimed in online chats that he was 19, and he had condoms in his pocket when he was arrested.
"It is disturbing that some of the alleged child predators from this operation held positions of public service and authority," said Col. Patrick Callahan of the New Jersey State Police. "But behind closed doors they went through great lengths to avoid detection online, frequenting social media sites with the sole purpose of targeting unsuspecting children."
"As far as some of the games — like for example 'Fortnite,' 'Minecraft,' 'Roblox' — we've had all kinds of cases where individuals are posing as someone else other than a 14-year-old in order to gain someones trust," said New Jersey State Police Lt. John Pizzuro to WPIX.
"It's critical that parents talk to their children about social media and chat apps to let them know that the people they encounter may not be who they initially seemed to be," Grewal said in a press conference.
In addition to Conte, those arrested include a nurse, a firefighter, college students and a registered sex offender. One defendant traveled to the undercover house all the way from his home in the Bronx.
Attorney General Gurbir Grewal urged parents to familiarize themselves with these apps and warn their children about sharing information with strangers.
"If children appear anxious or evasive when this topic is raised, it may be a red flag," said Grewal.
Below are the 24 men arrested as a result of the sting operation. All face second-degree charges of attempted luring or enticing a child with a purpose to commit a criminal offense against the child. Additional charges are as indicated.
Mina G. Beshay, 27, of Monroe Township, N.J. (Girl, 15) Beshay is a security guard. Additional charges: Attempted Debauching Morals of a Child (3rd degree), Attempted Showing Obscene Material to a Minor (3rd degree)
Christopher Vargas, 29, of Toms River, N.J. (Boy, 15) Vargas is a registered nurse.
Joshua Rauter, 31, of Little Egg Harbor Township, N.J. (Girl, 14) Rauter is a municipal public works employee. Additional charges: Attempted Debauching Morals of a Child (3rd degree), Attempted Showing Obscene Material to a Minor (3rd degree)
Joseph Martin, 35, of Seaside Heights, N.J. (Girl, 14) Martin is unemployed. Additional charge: Attempted Sexual Assault on a Minor (2nd degree)
Richard Hoffman, 23, of Mays Landing, N.J. (Girl, 14) Hoffman is a firefighter and a college student.
Volvi Lowinger, 23, of Lakewood, N.J. (Girl, 15) Lowinger is a college student. Additional charges: Attempted Sexual Assault on a Minor (2nd degree), Attempted Debauching Morals of a Child (3rd degree), Attempted Showing Obscene Material to a Minor (3rd degree)
Thomas Graciano, 28, of Brick, N.J. (Boy, 15) Graciano is a physical therapist in a retirement community.
Thomas Blumensteel, 47, of Manchester, N.J. (Boy, 15) Blumensteel is a hotel manager and a registered sex offender. He was sentenced to three years in New Jersey State Prison in 1997 for aggravated criminal sexual contact for sexually assaulting a boy, 13, whom he was supervising as a church counselor. Additional charge: Attempted Sexual Assault on a Minor (2nd degree)
Richard Conte, 47, of Farmingdale, N.J. (Girl, 15) Conte is a police sergeant with the Howell Township Police Department.
Thomas Fuller, 44, Toms River, N.J. (Boy, 15) Fuller is an assistant manager/sterilization technician. Additional charge: Attempted Sexual Assault on a Minor (2nd degree)
Zachary Vincent, 24, of Forked River, N.J. (Girl, 15) Vincent is a landscaper. Additional charge: Attempted Sexual Assault on a Minor (2nd degree)
William Singleton, 24, of Pemberton Township, N.J. (Girl, 14) Singleton is a restaurant worker. Additional charge: Attempted Sexual Assault on a Minor (2nd degree)
Jonathan Vece, 22, of Turnersville, N.J. (Girl, 14) Vece is a canvasser. Additional charge: Attempted Sexual Assault on a Minor (2nd degree)
Lawrence Ivancic, 51, of Toms River, N.J. (Girl, 14) Ivancic is unemployed. Additional charge: Attempted Sexual Assault on a Minor (2nd degree)
Robert Lisicki, 51, of Metuchen, N.J. (Boy, 15) Lisicki is a train conductor. Additional charge: Attempted Sexual Assault on a Minor (2nd degree)
Dylan Daffron, 28, of Lacey Township, N.J. (Boy, 15) Daffron is a cashier at a retail store. Additional charges: Attempted Sexual Assault on a Minor (2nd degree), Attempted Debauching Morals of a Child (3rd degree), Attempted Showing Obscene Material to a Minor (3rd degree)
Steven Portnoy, 27, of Egg Harbor Township, N.J. (Girl, 15) Pornoy is unemployed.  Additional charge: Attempted Sexual Assault on a Minor (2nd degree)
David Studnicky, 64, of Toms River, N.J. (Boy, 15) Studnicky is employed as a dry cleaner. Additional charges: Attempted Sexual Assault on a Minor (2nd degree), Attempted Debauching Morals of a Child (3rd degree), Attempted Showing Obscene Material to a Minor (3rd degree)
Anthony Perfidio, 24, of Barnegat, N.J. (Boy, 15) Perfidio is a data entry clerk.
Brian Degnan, 33, of Toms River, N.J. (Boy, 15) Degnan is a data entry clerk.
Nabindranauth Nandalall, 24, of Bronx, N.Y. (Girl, 15) Nandalall is unemployed.
William D. Davis, 23, Bayville, N.J. (Girl, 15) Davis is a consultant.
Charles Schlottfeld, 26, of Bayville, N.J. (Girl, 14) Schlottfeld is a mechanic. Additional charge: Attempted Sexual Assault on a Minor (2nd degree)
Douglass Walton, 54, of Hillsborough, N.J. (Boy, 14) Walton is employed in produce. Additional charge: Attempted Sexual Assault on a Minor (2nd degree)