Crime Stoppers offers its share of reward to McDonald's manager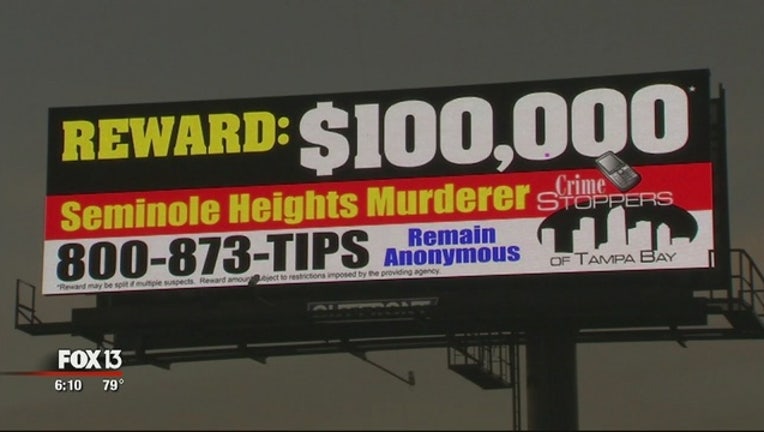 article
TAMPA, Fla. - Since the arrest of a man Tampa police believe to be the Seminole Heights serial killer, everyone wants to know the status of the $110,000 reward.
Immediately after the arrest was made, Chief Dugan said, "We are going to sift through everything and see what reward will be appropriate."
Crime Stoppers announced Thursday it would give the $5,000 it promised to the McDonald's manager who turned Howell E. Donaldson, III over to police.
The day before, restaurant owner Richard Gonzmart, who pledged $9,000, made good on his promise - hand-delivering it to the Ybor City McDonald's employee.
The status of the remaining $96,000 in promised reward money is still uncertain and Crime Stoppers explains it's not as simple as writing a check.
Crime Stoppers Tampa Bay says, in order for a reward amount to be offered as a large lump sum - $110,000 in this case, all agencies or organizations providing funds must coordinate distribution of those funds through Crime Stoppers.
Per the agreement, those groups make with Crime Stoppers, a tipster has to call Crime Stoppers first in order to cash in.
Because that didn't happen in this case, Crime Stoppers cannot pay out the lump sum. 
In its announcement Thursday, Crime Stoppers reiterated it has been "very specific explaining the details and requirements for each separate reward offered by the independent agencies and organizations."
The remaining reward money was promised by several local, state, and national organizations.
-$50,000 was promised by the FBI.
-$20,000 was promised by the U.S. Bureau of Alcohol, Tobacco, Firearms, and Explosives.
-$10,000 was promised by the Florida Department of Law Enforcement.
-$6,000 was promised by Rise Tampa
-$10,000 was promised by the David Straz, Jr. Foundation
FOX 13 News has reached out to each of these agencies and organizations for an update on their part of the reward and will update this story as they respond.
The McDonald's manager, Delonda Walker, who tipped off a police officer inside the restaurant on Tuesday afternoon that her coworker, Howell Donaldson, III, handed her a gun in a bag before leaving the restaurant briefly, has asked to keep the attention on the victims of Donaldson's crimes.
Walker wrote a statement that reads:
"As you can imagine, I am overwhelmed and surprised by yesterday's events and I understand why many are interested in speaking with me. At this time, I am speaking exclusively with police and am appreciative that they were nearby and quickly acted upon the information I discovered and shared with the police officer. I am also appreciative of the outpouring of support from the community. My thoughts are focused on the victims and their families and out of respect for them and the active investigation, please direct inquiries to the Tampa Police Department."
Walker's tip helped officers get possession of Donaldson's gun, which matches the weapon used in all four murders in Seminole Heights.
"That was the bit of information that we were looking for. That is what we needed," said Police Chief Brian Dugan on Wednesday. 
RELATED: Few answers after arrest of suspected Seminole Heights serial killer