Does St. Petersburg need more police officers?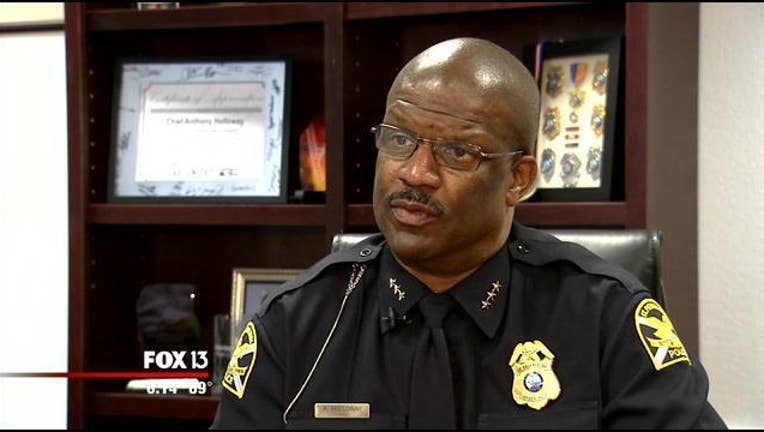 St. Petersburg police commanders have orders to study existing manpower shortages and availabilities to fuel probable requests for more officers and a new patrol district covering downtown St. Petersburg. 
"I told them within the next 90 days I want to know -- what do we need to do," Chief Tony Holloway told FOX 13 News Thursday. "With the development of downtown, St. Pete which is growing like crazy, we are now starting to look at do we need to re-district our city?"
For decades the city has been divided into three patrol districts, so a downtown district would be number four.
Holloway said officers are pulled into downtown from other parts of St. Petersburg Wednesday through Sunday, and the demands are growing. 
"With all of the restaurants, with all the stores that are coming, with all the new condos that are coming, you're going to need officers just to patrol that area," Holloway explained.
The internal manpower study will determine how many more officers should be hired in addition to the department's current authorized strength of 550 certified law enforcement personnel. 
In reality the department hasn't had that many officers at one time, due to retirements and other departures. 
Dozens of more officers plan to retire within the next couple of years. 
Training newly-hired replacements is an 8-month long process. Other law enforcement agencies are experiencing the same exodus of retiring baby boomers, creating a competition for qualified applicants.
Rank and file officers are represented by the PBA, which has pleaded for additional help for years. 
"With the statistics that we have here, the workload that our officers carry on a daily basis, I think that you could make an intelligent argument for a hundred more officers," PBA president George Lofton told FOX 13 News. "But being realistic and fiscally responsible, that's not an option." 
Lofton agreed a fourth patrol district is warranted. 
"Downtown definitely requires a lot of resources," he said. "Nobody knows that better than the guys that are out there on the street beating the pavement."
The subject of more police officers also surfaced at Thursday's city council meeting.  After a brief debate about the costs the council referred the issue to a committee for further study.