Downtown Tampa streetcar eliminating fares for three years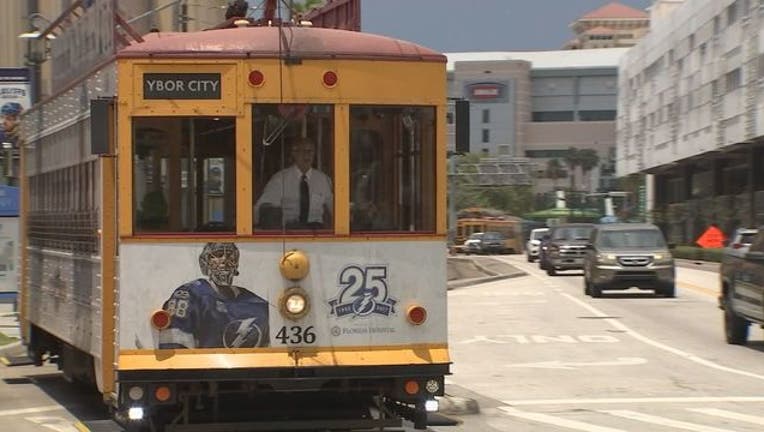 TAMPA (FOX 13) - The streetcar service in downtown Tampa will be providing free rides for the next three years.
Earlier this year, the Florida Department of Transportation awarded HART with a $2.7 million grant, so fare-free rides with the TECO Line Streetcar start October 7, and service times will increase from every 20 minutes to every 15 minutes from 7 a.m. to 7 p.m. on weekdays. Extended service hours will be throughout the week.
The announcement was a welcome surprise for locals and tourists in downtown. 
"It helps. We got a taxi from the airport and spent $32 and this is free," said Jean Wheeler, a Tampa visitor. "Now we have more money to spend in Tampa."
City officials said the primary goal is to add another option for residents, employees and visitors to roam around downtown Tampa, the Channel District and Ybor City. 
"As wait lists for downtown parking increase, and Water Street construction gets underway, the TECO Line Streetcar becomes an invaluable travel option for those living and working in downtown and historic Ybor City," said Tampa Historic Streetcar president Michael English. "This could be a game changer for transportation in downtown Tampa." 
Officials are also hoping the streetcar can help with traffic congestion. 
"We really want to boost ridership, hopefully alleviate some congestion in downtown Tampa," said Kris Carson, a spokesperson with FDOT. 
The Streetcar Extension Study from downtown Tampa to the Tampa Heights neighborhood is also being funding by FDOT, but officials are seeking federal funding for further development. 
Additional information on streetcar routes can be found on the TECO Line Streetcar website.