Drug testing policy in Hillsborough could be changing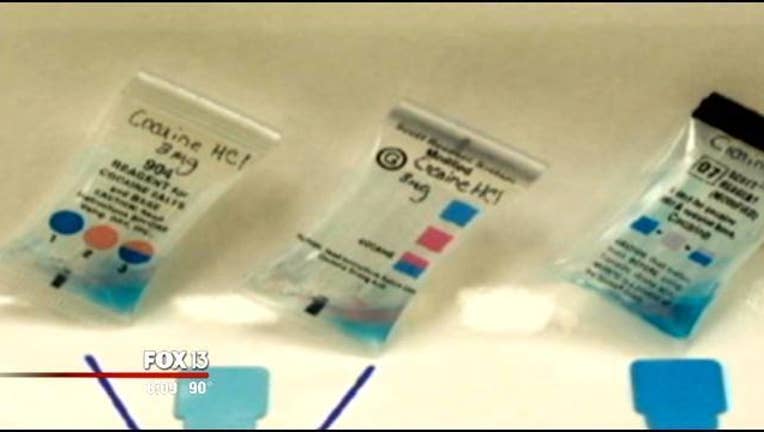 TAMPA (FOX 13) - There are subtle, yet positive, significant changes happening at the Hillsborough county courthouse.
Hillsborough Circuit Judge Gregory Holder along with his fellow judges is now pushing to have suspected drugs seized in felony cases, be tested by FDLE right away.
That means they would no longer have to wait for the Hillsborough State Attorneys Office or the public defender to request it.
This is a big deal considering what happened to a military officer last year.
According to FDLE records the officer was arrested on July 6 after a field drug test showed the pills in his pocket were meth.
But for some reason it took months to send the substance to FDLE.
Documents show they got it on October 16 -- more than three months after he was arrested.
"We have got to move quicker to resolve these issues whether it's a controlled substance or it's not a controlled substance period," said Judge Holder.
In this case it wasn't.
Five weeks later the FDLE sent the results to State Attorneys Office and on December 4, the drug charges were dropped.
From start to finish, it took that military officer five months to clear his name.
But Judge Holder says that should never happen to anyone again." That just absolutely unacceptable absolutely unacceptable," he explained.
For six months, FOX 13 has been investigating these field drug tests used by law enforcement everywhere.
Top scientists in South Carolina showed us how the test kits mistook samples of coffee, over counter medication and even a sample of nothing but air for illegal drugs.
After our investigation exposed how faulty these drug tests are more and more judges agree with Judge Holder.
"Our laws whether its U.S. Constitution or Florida Constitution ensure each and every one of us fundamental rights and those are being denied because of the testing that's been done on the road or at the jail that's just not valid, " Holder added.