Tampa PD: 15-year-old killed, 3 others injured by DUI driver in Gandy crash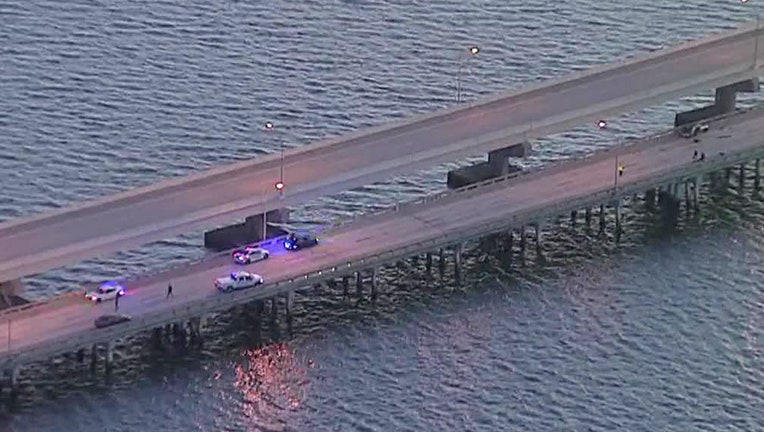 article
TAMPA, Fla. - A 15-year-old girl was killed and three others were injured by a suspected DUI driver in an early morning crash on the Gandy Bridge in Tampa, police said.
The crash happened just after 4 a.m. Thursday in the eastbound lanes.
Investigators said the 20-year-old driver of a 2008 silver Infiniti Q35 ran out of gas on the bridge. After pulling over to the left shoulder, he spotted what appeared to be a drunk driver swerving from side to side and heading in his direction.
RELATED: Judge sets $1.5M bond for Florida man accused of trying to kidnap girl from school bus stop
He attempted to warn his passengers, a 15-year-old girl, a 17-year-old girl, and a 20-year-old man, but the oncoming car, a 2021 blue Honda Accord, crashed into the group.
The 15-year-old girl was standing outside of the passenger side of the car and was killed in the crash.
The 20-year-old man, who was seated in the rear driver's side, suffered a minor injury to his left leg after it was pinned between the guardrail and the vehicle. The 17-year-old female in the rear passenger seat suffered minor injuries.
WATCH: Wild Florida police chase ends with 5 juvenile suspects in custody after attempted home invasion
The driver of the Honda Accord, later identified as 28-year-old Sebastian Gutierrez, remained on the scene with no apparent injuries. However, police said he was demonstrating signs of apparent impairment.
Gutierrez was charged with DUI manslaughter and taken to the Hillsborough County Jail.
The victims' identities were not released by authorities.