Engineers examine bridge after crash, fire at I-75 and Fowler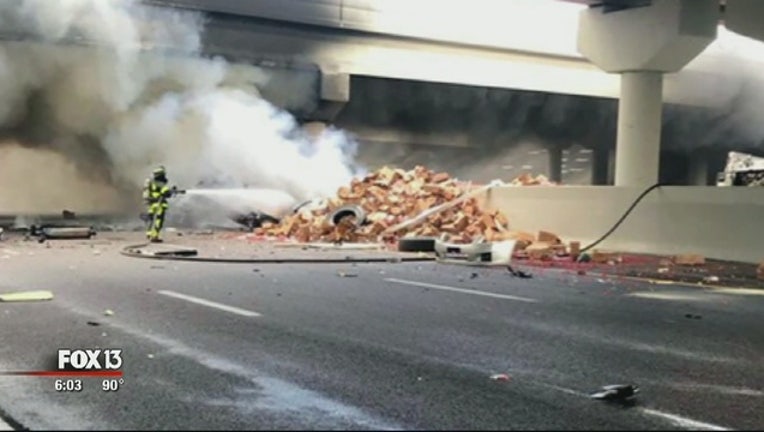 article
TAMPA (FOX 13) - Repairs are underway for a portion of Interstate 75 at Fowler Avenue where a semi-truck flew off the overpass Tuesday afternoon, crushing a car underneath and killing its driver. 
All lanes are open but FDOT said crews are repaving a portion of the roadway, fixing a guardrail, and cleaning debris.
Repair work is expected to last for the rest of the week.
First responders who rushed to the scene recall the accident as one of the most challenging they've experienced.
"This one was extremely unique to where we had one vehicle on top of another vehicle," said Jason Turk, with Hillsborough Fire Rescue.
Turk was one of the firefighters who helped rescue the driver of the semi-truck.
"You hear the siren going, you're honking the horn trying to get people out of your way," said Turk, "they don't have anywhere to go, so it's equally frustrating for them, as we're trying to make our way to help the ones in need."
The multi-vehicle crash occurred after 4 p.m. Tuesday. Florida Highway Patrol troopers said a 40-year-old female driver was entering the northbound entrance ramp of I-75 when she lost control of her 2004 Toyota Sequoia. Investigators said the SUV rotated across the northbound lanes of I-75, and into the path of a tractor-trailer.
Both collided, sending the SUV into a barrier wall along the overpass and the truck over a wall, and down onto Fowler Avenue. Troopers said the tractor landed on another vehicle, killing the driver inside. He has not been identified by officials.