Florida man who planned to blow up his street with homemade explosives arrested, deputies say
EUSTIS, Fla. - A Florida man who allegedly built explosive devices with the intent to blow up himself and his street was arrested Monday in Lake County, according to an arrest affidavit.
The Lake County Sheriff's Office said a woman, who had been staying at the home of 55-year-old Markus Fricke, contacted law enforcement Friday saying the man had been making bombs and booby traps devices in his Eustis home on Tulip Avenue and told her his intentions. She said the man had built several devices recently and was awaiting a shipment of chemicals to finish building the devices. 
STORY: Shark bites teenager at Cape Canaveral in Florida
Detectives executed a search warrant for the home and LCSO's hazardous device team – which has specialized training in explosive devices – sent a robot into the home to prevent deputies from getting hurt in any traps.
Inside the home, authorities found multiple destructive devices, a fuel bomb/incendiary device, and several guns and ammunition. 
"He had his house full of them, and they were all over the place," said Lt. John Herrell of the Lake County Sheriff's Office. "On Friday night he was threatening to kill himself and blow the house up."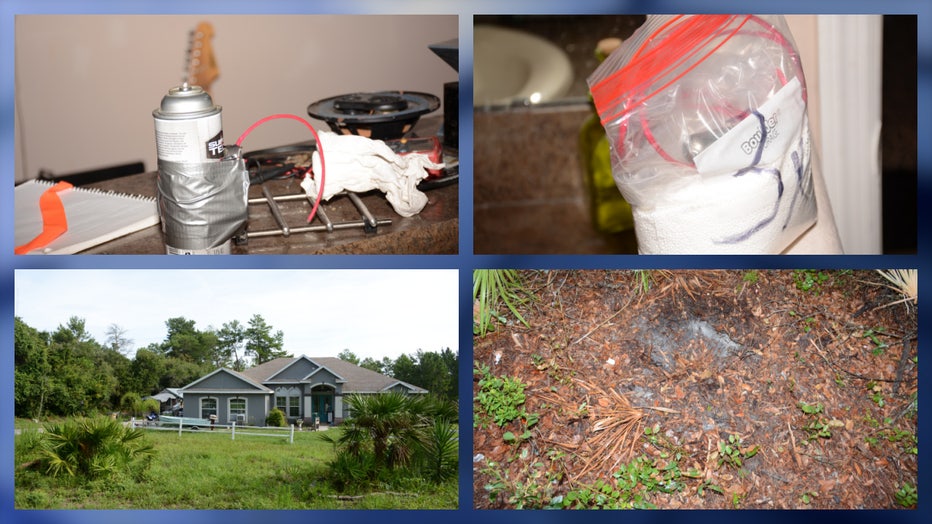 The Lake County Sheriff's Office released photos of the Eustis home where explosive devices were found.
Lake County's bomb squad spent an entire day going through the home. They disarmed four live bombs and found three others nearly complete. They also found explosive materials including 50 pounds of ammonium nitrate. 
"He was very paranoid and suicidal. He had this weird obsession with explosions and explosive devices," said Herrell.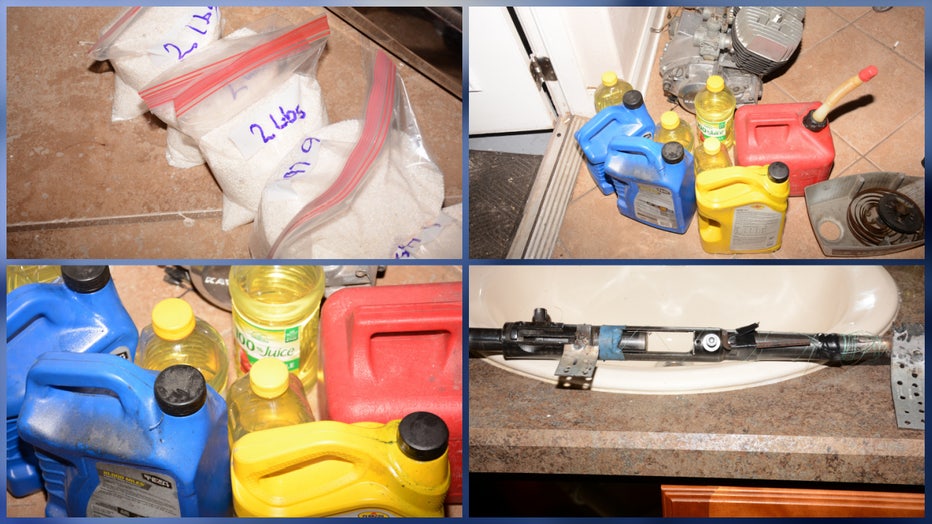 The Lake County Sheriff's Office releases images of items found inside the Eustis home.
Investigators also found a "significant amount of anti-Semitic literature" inside the home, but deputies said it's unclear whether he had any specific targets.
MORE NEWS: Man walks into closed Volcano Bay restaurant and pours himself $50 alcoholic drink: affidavit
Law enforcement also spoke to multiple neighbors who said the man fired his guns regularly from within the home and saw him detonate explosive devices on the property. A neighbor said the explosion was "forceful enough to shake the walls within their home," the affidavit stated.
Neighbors who have lived by the house told FOX 35 that the last few years have been a nightmare with explosions going off at all times of the day and getting more intense.
"Scary," said Anna Ramirez. "I told my husband, 'My goodness, we are alive! Amen!'"
Alive and feeling safer after their neighbor Fricke was taken into custody. The neighbors said explosions at the home were not unusual in their otherwise quiet neighborhood at the edge of Eustis.
"I always hear a lot of 'boom, boom, boom, boom, boom' everywhere," said Ramirez.
Although some neighbors began to worry as the explosions grew louder and stronger. One recently rattling nearby homes.
"I heard the other day one loud boom. I looked and there was fire. That was definitely not a gun," said Ramirez.
Most neighbors were too concerned to go on camera.
"The fact that he could've done a lot of real damage not only to me but my other neighbors as well," said one neighbor who asked not to be named.
All are thankful for the ordeal to be over.
"He needs help," said Ramirez. "I love him as a neighbor but there is a limit and I think he needs help,"
Fricke was booked into the Lake County Jail on several charges including making/possessing a destructive device, discharging a destructive device, and threatening to throw, project, place, or discharge a destructive device.
According to law enforcement, deputies had been called to the home numerous times over the last few years for his "unusual and concerning behavior" and had been taken into custody for mental health evaluations in the past.