Florida ranks as second most-expensive state to buy a dozen of eggs
TAMPA, Fla. - Right now in Florida, egg prices have customers shelling out more than usual, cracking open some big problems for the average consumer.
"Every time I go to buy it, it was much higher than it used to be," one shopper said.
Among the cheapest eggs we found were for a dozen for $5.21 at a supermarket chain in South Tampa. According to the grocery delivery app Instacart, the Sunshine State ranks as the second most-expensive state to a buy a dozen of eggs with the average cost being about $6.36.
READ: Where people moved in 2022: Florida showed gains, California showed declines
"It's a little bit of an anomaly and there's not necessarily a real solid explanation as to what makes eggs unique kind of within that group because about a year ago we saw the price of beef and chicken that was spiking, but eggs were low," University of South Florida economics instructor Dr. Michael Snipes said. "Now eggs are high, but beef and chicken and those prices are starting to come down."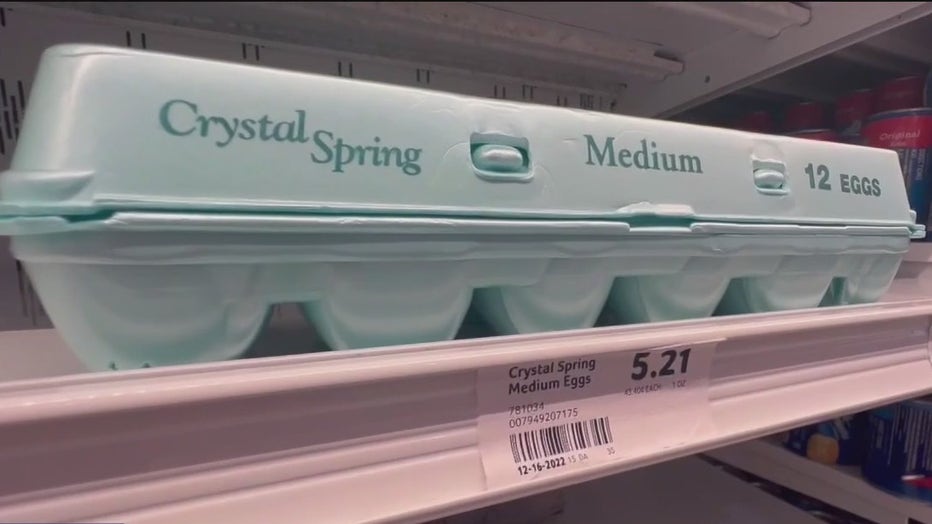 As Snipes explains, inflation mixed with the volatility of the prices of animal products in general are partly to blame for the high cost of eggs. 
"People are going to change their buying habits. People are going to substitute towards goods that are less expensive," Snipes said. "One of the things that is unique about eggs is that there's not really a whole lot of good substitutes for eggs and that's going to be at least part of the reason why we're seeing the price of eggs staying high."
MORE: Major insurers plan to drop two car models' coverage due to thefts: report
According to the Consumer Price Index, the average retail cost in the US for a dozen eggs has more than tripled going from $1.72 in November 2021 to a record-breaking $5.59 in November 2022. So when can we expect to see eggs prices go down? Snipes says it's hard to say.
"Egg prices are tied to overall prices. And in Florida if overall is more expensive, eggs are just going to be a part of that," Snipes said.