Florida wildlife officials asking for public's input on helping pelicans avoid fishing lines at Skyway Pier
ST. PETERSBURG, Fla. - The Skyway Fishing Pier is one of the most popular spots for fishermen in the Tampa Bay Area – and also for brown pelicans.
The Florida seabirds have a nesting area nearby. Because of this, Florida Fish and Wildlife officials said entanglements at the Skyway Pier are seven times higher than in other areas where entanglements are documented. 
They said that's because it's one of the longest piers in the state, creating an artificial reef for the seabirds and lots of food for them. FWC officials said the seasonal increase in people and birds also creates the perfect storm.
The pier was dubbed, "pelican death row," after a 2022 study showed that line entanglements and fishhooks are the leading cause of death among brown pelicans at this location.
PREVIOUS: Fishing line, hooks leading cause of brown pelican deaths, officials say
On Wednesday evening, more than 100 people called into FWC's nearly three-hour virtual discussion about potential fishing regulations to tackle the entanglement of seabirds at the Skyway Pier. FWC said the goal of the workshop was to hear the public's input about what to do.
Plenty of people on both sides of the debate provided that input.
FWC proposed possible rules to reduce severe entanglement at the pier. Those possible regulations include:
Mandatory education provisions about how to properly help a hooked pelican and release it
Prohibiting the use of hook and line gear with more than one hook attached and any multiple hooks from November to March
Limiting the use of hook and line fishing gear to no more than two sets within the park 
Prohibiting the use of Sabiki rigs, which have more than one hook attached, year-round within part of South Skyway Pier
FWC officials also discussed sun-setting the regulations after monitoring them for a period of time.
Right now, FWC said it tries its best to advise people not to cut fishing line, to instead reel, remove and release through signage at the pier and online resources. It also created the Hooked Pelican Working Group made up of local, state, and federal agencies to talk about solutions to entanglements.
Kim Begay, Vice Chair of the nonprofit Friends of the Pelicans, said the group rescues about 15 pelicans per day from the pier. She said she'd like to see most of the proposed regulations year-round, and even more rules.
"The number of deaths and severe injuries that're happening from these specific hooks are completely unacceptable," she said. "I mean, it literally amounts to torture. I would like to see them limit fishing poles to one fishing pole per angler just because the pelicans zoom through that corridor of water and they fly into the lines all the time. There are hundreds of lines out on a busy day and if the person isn't manning the fishing pole right there, they fly into the line and the pole goes right over the edge."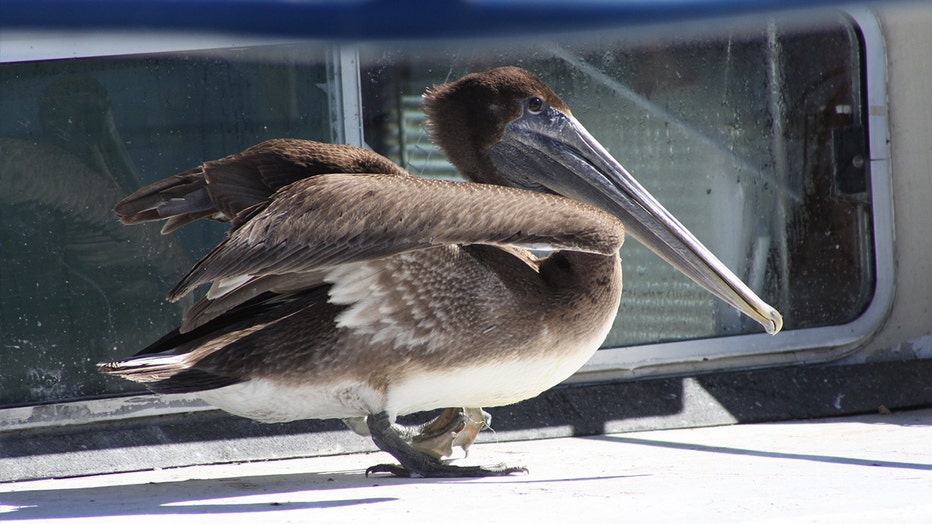 FWC captured this image of an injured pelican who had a fishing lure hooked to the webbing of his feet. (Florida Fish and Wildlife Conservation Commission)
Sometimes, fishermen end up cutting the line, she said, but those pelicans can get caught in mangroves and starve to death.
For years, Friends of the Pelicans has pushed for the end of the South Skyway Pier to close to fishing from September to February, which is prime nesting season for brown pelicans. The pier is especially problematic because of its proximity to nesting areas.
Fishermen have called some of FWC's proposed regulations an overreach. During the Wednesday call, they said education is key, specifically showing people how to properly help a hooked pelican and release it.
Anglers also said they felt like they're being targeted, and they want to see solutions to deter the pelicans from the pier too. Some said they previously negotiated with stakeholders and felt like they're not being heard. They also want more accountability for the people who they say are feeding the pelicans on the pier, which isn't allowed.
"If it impacts the tackle they're allowed to use, it could make a big difference, and they could just fish elsewhere," said Tim DeShane, who was fishing on the Skyway Pier Wednesday.
FWC will present the public's feedback from the workshop and staff's recommendations at their February meeting. The commission will then make decisions about potential regulations at a meeting on a future date.
You can email Marine@MyFWC.com with feedback about the possible regulations if you couldn't make it to Wednesday's meeting.