Fourth of July fireworks displays around Tampa Bay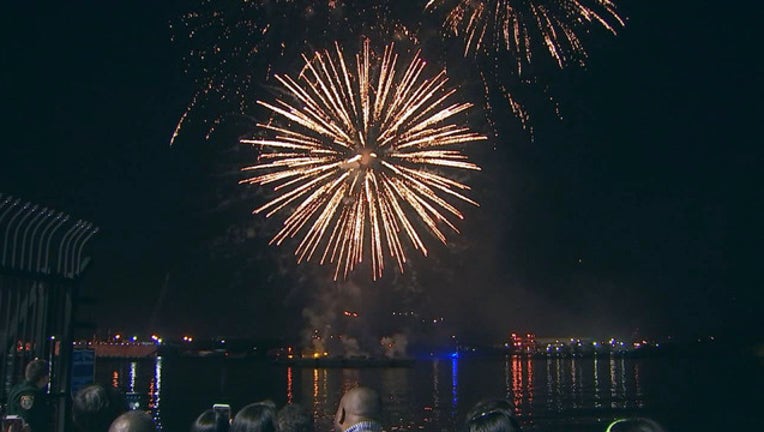 TAMPA (FOX 13) - There will be pockets of red, white and blue throughout the Tampa Bay area this week, from fireworks displays to other events in celebration of Independence Day.
Below is a growing list of events around the area. Most events are free to attend, and there are plenty of family-friendly activities to choose from.
Website links are also provided where you can find additional details: 
PINELLAS COUNTY
Downtown St. Petersburg: Fireworks are expected to start at 9 p.m. at St. Pete's Spa Beach Park, located at 615 2nd Avenue NE.
Clearwater: Fireworks and events will take place at Coachman Park, 301 Drew Street. Gates open at 6 p.m., with fireworks beginning between 9 p.m. to 9:30 p.m.
Gulfport: There will be a parade along Beach Boulevard starting at 6 p.m., with a fireworks display visible from Gulfport Beach at 9 p.m.
Largo: Family-friendly events and activities are happening at the Largo Central Park, 101 Central Park Drive, beginning at 6 p.m. Fireworks show is scheduled for 9:15 p.m.
Madeira Beach: City officials said the fireworks display, which is scheduled for 9 p.m., can be viewed at any part of the island. It will launch from Roc Park, located at 200 Rex Place.
St. Pete Beach: Fireworks will take place at 9 p.m. at Upham Beach. Area will be closed off at 6 p.m. to fence off the launch area.
Safety Harbor: A patriotic parade will take place on Main Street from 10 a.m. to noon. Starting at 5 p.m., there will be family-friendly activities with live entertainment, food vendors and activities. Fireworks start at 9 p.m. and can be viewed from the Safety Harbor Marina, 110 Veterans Memorial Lane.
Tarpon Springs: Fourth of July starts with a picnic at Craig Park, just off of Tarpon Avenue at Springs Boulevard from 10 a.m. to 2 p.m. Fireworks will take place at Howard Park, 1700 Sunset Drive, from 7:30 p.m. to 9 p.m. Parking is free after 6 p.m.
Treasure Island: Fireworks will light up the sky at 9 p.m. on the beach, in the 10400 block of Gulf Boulevard.
HILLSBOROUGH COUNTY
Downtown Tampa: Fireworks will take place at 9 p.m. with the Tampa Riverwalk hosting the event, and can be viewed anywhere along it.
Plant City: There will be food vendors and activities starting at 6 p.m. at the Plant City Stadium & Randy Larson Softball Four-Plex, 1810 East Park Road. Fireworks are set to go off at 9:15 p.m.
Temple Terrace: Fireworks will begin around 9:15 p.m. at Temple Terrace Family Recreation Complex, 6610 East Whiteway Drive. Festivities begin at 6 p.m.
Busch Gardens Tampa Bay: Live music, performances, and an extended fireworks display begins at 8:30 p.m. included with park admission.
POLK COUNTY
Lakeland: The "Red, White & Kaboom" will actually take place on July 3, at Lake Mirror along the Frances Langford Promenade. Event starst at 6 p.m. and ends at 9:15 p.m.
Winter Haven: LEGOLand's Brick and Boom fireworks. The park opens at 10 a.m. and the park closes at 9 p.m. with the fireworks celebration beginning at 9 p.m  
PASCO COUNTY
Wesley Chapel: There will be food trucks and vendors, among activities at Avalon Park West Community, 5227 Autumn Ridge Drive beginning at 5 p.m. Fireworks begin at 9 p.m.
Dade City: It's $6 to head to the Pasco County Fairgrounds for the "Sparklebration Star-Spangled Spectacular." Those who are 12 and under can get in for free. There will be live entertainment food, contests and more. Events begin at 4 p.m. with fireworks at 9 p.m. Parking is available for $5.
HERNANDO COUNTY
Brooksville: It's $10 for admission, $5 for ages 4-12, and free for those under the age of 3 at the Hernando County Fairgrounds. Festivities begin at 4 p.m. Parking is available for $5.
Spring Hill: The Red, White, and Brews Celebration will take place on July 3 from 4 to 11 p.m. at the Lake House. Free parking and free admission for fireworks and live music.
SARASOTA COUNTY
Downtown Sarasota: The fireworks display over Sarasota Bay can be viewed anywhere in downtown Sarasota.
MANATEE COUNTY
Bradenton: The fireworks will take place from a barrage on the Manatee River at 9 p.m. They can be viewed along the Bradenton Riverwalk.