Girl, 8, with special needs shamed by woman at Astros game for being too loud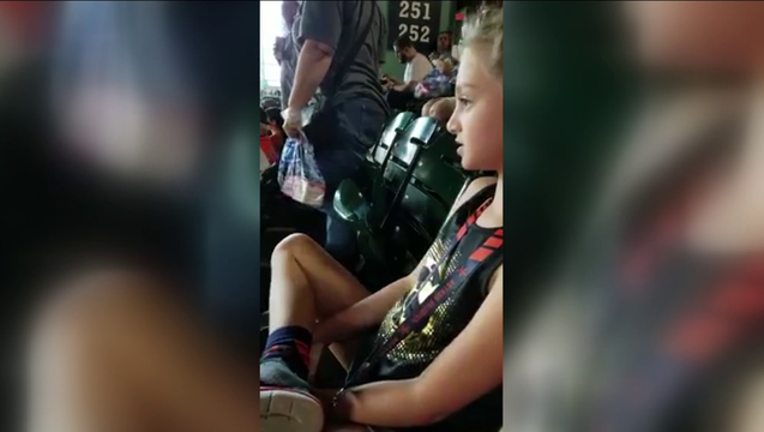 article
HOUSTON (FOX 26) - An 8-year-old girl with special needs was scolded by a woman for apparently being too loud at an Astros game on Sunday. The girl's reaction was caught on video and shared on Facebook thousands of times. People everywhere are now trying to bring her spirit back up by supporting her through social media. 
Eight-year-old Chloe Beaver loves cheering on her favorite baseball team, the Houston Astros.
"I go 'Let's go Astros' and whoever is going up, I cheer their name," Chloe said. 
Her favorite player is Jose Altuve. 
"He's the best shorty on the team," Chloe said. 
She's also got a jersey, an Astros finger and a World Champions Ring to prove it. 
In fact, she went to six games this year-- three of them last week.
"One time I got the whole section to start cheering. I felt impressed with myself," Chloe said. 
But on Sunday, Chloe's loud cheers for the Astros was shut down, when a woman sitting in front of her looked back and sternly told the child-- "Enough!" Some of it was caught on video and posted to Facebook.
Chloe's mother, Monica Beaver said about a year and a half ago, Chloe was diagnosed with DMDD -- disruptive mood dysregulation disorder-- a condition in which the 8-year-old can't comprehend emotions greater than that of a toddler's. Monica said Chloe was devastated after being scolded.
"If you have an issue with somebody's children, talk to the parent. Not the child. We tried to get our row and the row behind us to cheer on and get her to keep cheering. It took a little bit though but there were a bunch of people upset at that situation, so we tried to fix it in a positive manner," Monica said.
"I mean you don't know what anybody's going through. I mean, we were telling them throughout some of the innings if they were getting loud and between innings and before the game, 'hey let's wait till they start going out on the field," Joe Beaver, Chloe's father said.
"But you're at a stadium. You're supposed to be loud. You're supposed to cheer your team on. I've never watched a game on TV where it's not loud and you don't hear everything in the audience. You get loud and if you don't want to be at a loud area, don't go to the game," Joe continued. 
Fellow fans at the game as well as those online have been encouraging little Chloe to never stop cheering, and to keep her spirit up. 
Chloe's parents said they were worried she wouldn't want to go to any sporting events again after this, but Chloe said she hopes to go to all of the Astros home games next year.
Houston Astros' Lance McCullers had this uplifting message for Chloe: