'Hamilton' sells out shows at the Straz while changing the face of Broadway
TAMPA, Fla. - The Grammy-winning musical 'Hamilton' has sold out shows since it debuted at the Straz Center in December, but this history lesson with a touch of hip-hop may also be changing the look of Broadway forever.
It tells the story of America's founding fathers and many say it changed Broadway forever due to its multi-racial casting and unique dynamic character roles.
"There is an amazingly diverse cast. They've got amazing, diverse music. There's a little something for everybody," explained actor Josh Tower, who plays Aaron Burr.
"The show is about the life of Alexander Hamilton, who is one of the nation's founding fathers and the first secretary of the treasury. It is his story and life told through the medium of hip-hop, rap, jazz and musical theatre music," said Edred Utomi, who plays Alexander Hamilton.
The first act is about the Revolutionary War and the second act is about the setup of our nation.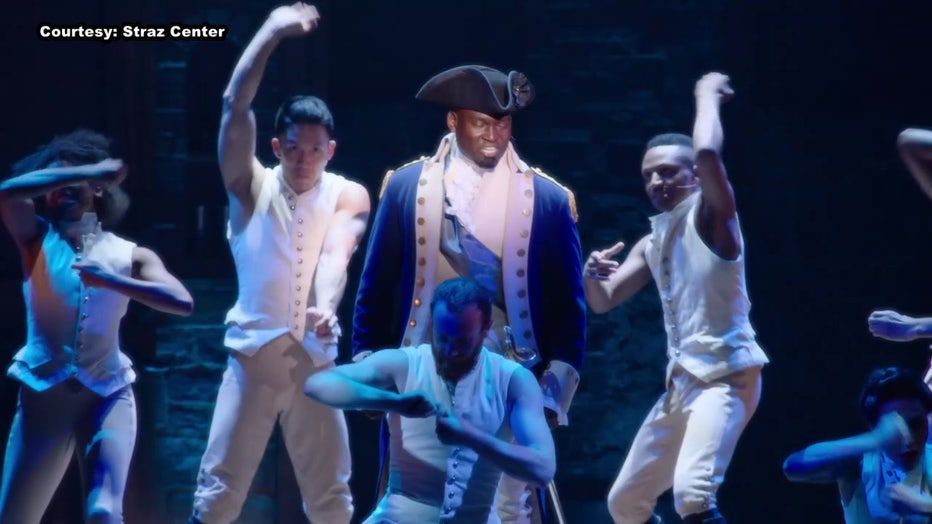 Edred Utomi plays Alexander Hamilton at the Straz Center.
"This is the story of our founding fathers," Tower shared. "All of our characters are super-flawed. All of them are involved in the unraveling and the nuances and the creation of our country as we know it now."
READ: Metropolitan Ministries, Straz Center open up world of dance to elementary students
'Hamilton' has brought in a whole new group of people who maybe never liked theater or went to the theater before, musical theater.
"A lot of people who were not seen to be seen on stage, to see themselves on stage, I know that growing up, I didn't have a lot of shows to see myself on stage. So, now, being a part of a show that others can see themselves in is pretty important," Utomi said.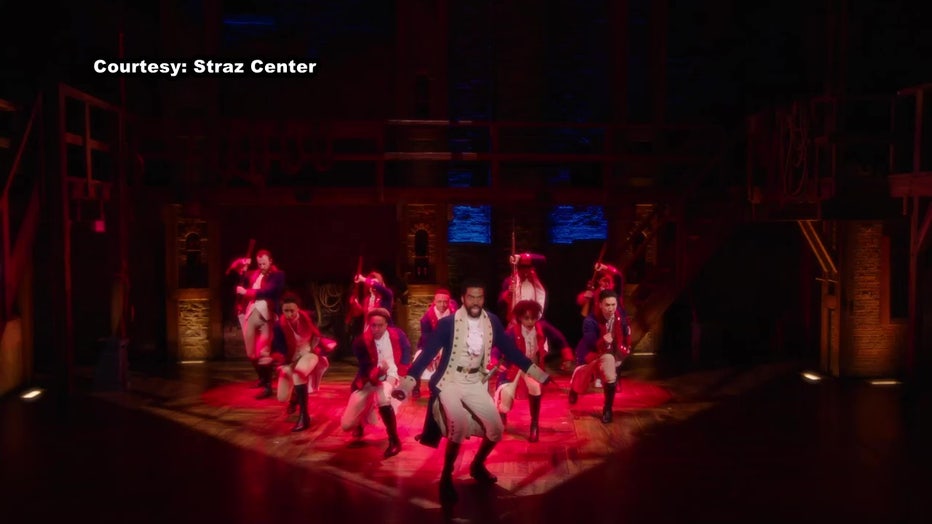 Hamilton is a history lesson with hip-hop. 
"I think it cuts across a lot of boundaries and gets the people so that it spurs interest, which is really, really cool. You get people who would never come to see any show, let alone Hamilton," Tower shared.
READ: Accomplished dancer teaching the next generation in St. Petersburg
Cast members say 'Hamilton' forever changed the look of Broadway and the look of musical theater. Utomi points to 1776, which is also a show about our founding fathers that has an all-female cast.
"I think it's already changed the fabric of, not just theater, not just musical theater, but like entertainment, movies at large and I think Hamilton showed people that it could be done," Utomi explained.
Many 'Hamilton' cast members say the show is changing the face of Broadway with its diverse cast. 
Tower says the 'Lion King' is the most spiritual show he's ever done and 'Hamilton' is the most important show he's ever done.
"I feel pretty proud to be in this show because the show is so important I think not just to the musical theater world, but the world at large. It's a very important piece of work, so I felt very proud being in the show and being Hamilton on top of that is just -  you can't beat that," Utomi shared.  
'Hamilton' runs through January 22 at the Straz Center.