Handful of shops keep old-school camera hobbies alive for enthusiasts
NEW PORT RICHEY, Fla. - Just like how MTV revolutionized music in the 1980s, smartphones of the 2000s changed the way we capture time. Digital cameras are now dinosaurs banished to the back of junk drawers. But the true relics might actually be the stores people bought them from, not big box stores, but genuine camera stores.
"I love an old-fashioned camera store like this" Jim Smetzer, owner of Pasco Camera Exchange in New Port Richey, stated with a laugh. "I hear that all the time."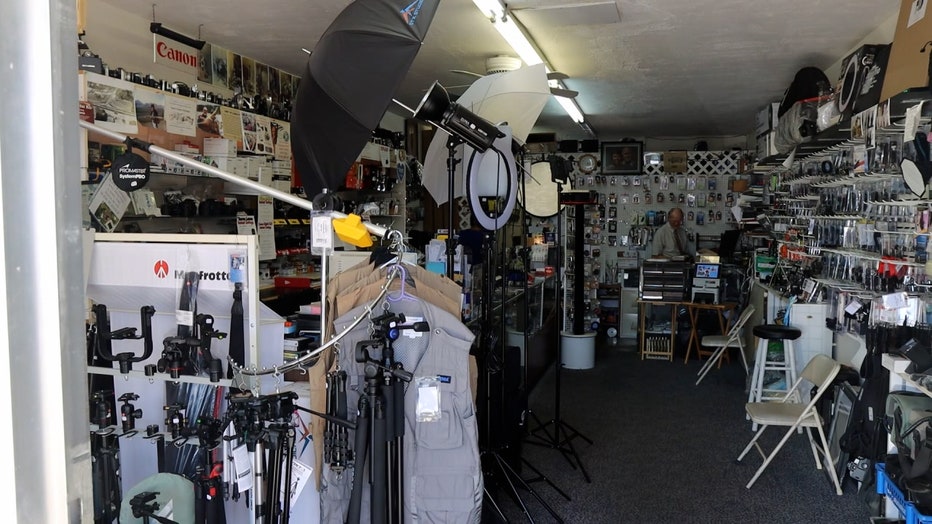 Jim's store is one of only three remaining camera shops around Tampa Bay, along with Marshall's Camera in Auburndale, and Johnson PhotoImaging in Bradenton.
"People pull up out front, and it's only 600 square feet. They walk in, and they're like, 'Oh my gosh. I can't believe you have all this stuff in here,'" Jim said. 
READ: Warm Mineral Springs celebrates reopening after Hurricane Ian damaged park
He opened his store just a few years before people started switching from film to digital. 
"That was scary because we didn't know what a pixel or a memory card was," he recalled.
Then, a few years later, Apple completely changed the game with the iPhone. Suddenly, everyone had a digital camera and photo library in their back pocket all the time. Global digital camera sales went from 121 million units a year to a mere 8 million.
You'd think that would have put Jim out of business, but it's quite the opposite. 
"There is definitely still a market," he said. 
He's adapted. His main customers now are enthusiasts looking to improve their skills. 
"When we first opened up we were scared to offer a $1,000 lens, and now we have people come in all the time for them," he said.
Jim said there is one advantage a camera shop will always have: that hands-on experience to touch and try out a new piece of equipment.
Pasco Camera Exchange (https://pascocamera.com/) is a little camera shop that survived a tsunami of cell phone sales and is proving a passion for digital photography still burns. "Once they start shooting, they really seem to stay with it," Jim says.