Harriet, M15 - the famous eagles of southwest Florida - are expecting 2 eaglets following Hurricane Ian
NORTH FORT MYERS, Fla. - Hatch watch is underway for a well-known eagle named Harriet.
"We should see a pip or a crack in the egg here in the next 24 hours," said Ginnie Pritchett McSpadden, the co-founder of the Southwest Florida Eagle Cam with Dick Pritchett Real Estate, which has been providing the live look from North Ft. Myers since 2012.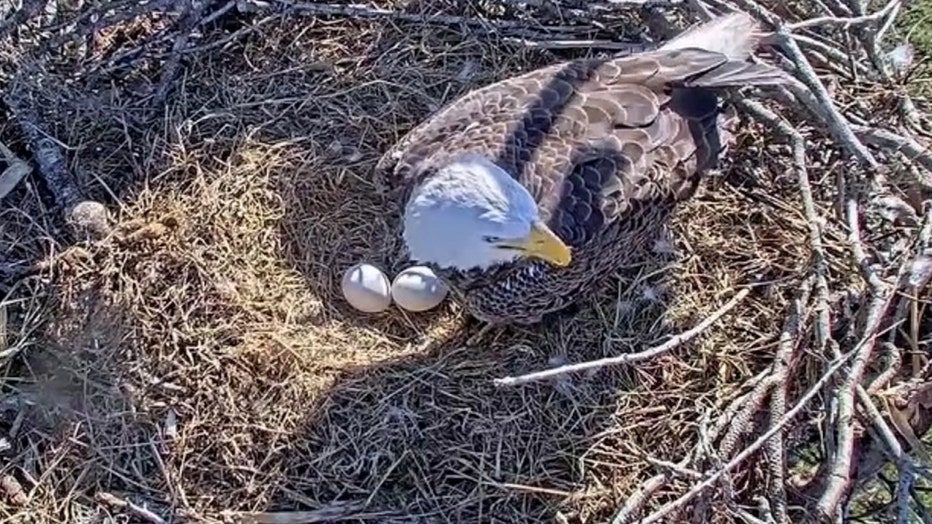 As that time inches closer, thousands will log onto Southwest Florida Eagle Cam, hoping to catch a glimpse of Harriet, M15, and their eaglets. Live-streaming video of the eagles and their eggs are being broadcast from several angles, none of which disturb the eagles or make any sound.
"It just gives you something else to think about and something to focus on other than the day-to-day routine," said Pritchett McSpadden.
Following Hurricane Ian, the nest has provided others hope, after the area was devastated by the storm.
"We were kind of numb coming out of hurricane Ian. We weren't sure how to take those next steps and that first step forward," she said.
Harried and M-15 led the way.
"From the start, we were very worried that we would not even get the cams back after Hurricane Ian hit us. The cameras were damaged, but we were able to repair them from the ground, not endanger their nesting area," she said.
READ: TECO's Manatee Viewing Center is a popular destination for sea cows and tourists alike
Less than two days after the storm passed, the pair began to rebuild.
"The eagles had started to rebuild and had to start from stick one basically," said Pritchett McSpadden.
That one stick turned into a new nest.
Now three months later, two eggs laid by Harriet could hatch anytime.
"Just being able to see that the eagles had the strength to do that it kind of gave us the strength to. It was scary and it was hard, but to see that they could do it and there are so many similarities between lives and eagle lives we could do it too," said Pritchett McSpadden.
The eagles rebuilt their life and continue to shine as a beacon for others working to rebuild.
"It's just been an amazing process and shows how resilient they are. It's just everything coming at them and they're just always natural instinct at their finest," said Pritchett McSpadden.
To watch the live feed visit: https://dickpritchettrealestate.com/southwest-florida-eagle-cam