Here's what to do with leftover Halloween candy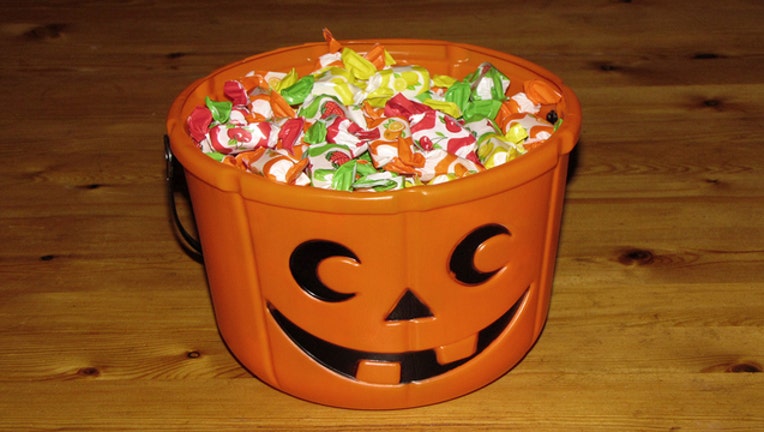 article
TAMPA (FOX 13) - Wondering what to do with all of that leftover Halloween candy? If your kids came home with enough candy to feed an army, well-- you can do just that. 
Whether you didn't get as many trick-or-treaters as you expected, or your trick-or-treaters brought in a too-big haul, there are options other than eating yourself into a sugar coma or hiding those sugary confections in that hard-to-reach cabinet above the refrigerator. 
The Halloween Candy Buy Back program offers money, prizes, and other giveaways in exchange for your extra candy, but the real incentive is the good you do by handing over your sweets. 
Dentists across the Tampa Bay area-- and the nation-- are holding candy buy back events the first week of November.
All of the candy that is collected is donated to Soldier's Angels, a nonprofit organization that supports the troops in a variety of ways. Soldier's Angels will sort the candy and ship it in holiday care packages to troops deployed overseas.   
Visit halloweencandybuyback.com and enter your zip code to find participating dentists near you. 
If you can't find a participating dentist near you, or your schedule prevents you from attending one of the buy-back events, there are other options. Operation Shoebox is another organization that supports the troops, and they accept candy donations year-round. Simply mail your candy donation to the address below. 
Operation Shoebox
8360 East Highway 25
Belleview. Fl. 34420
Here is a list of Tampa Bay area Halloween Candy Buy Back events:
Exceptional Dental 3238 4th Street North St. Petersburg, FL, 33707 (727) 388-3429 Nov. 4, 2016 from 8:30 a.m.-5 p.m. $1 per lb of candy and the kids get to choose something from the treasure box.  
Randall A Diez, DMD PA  5010 Gunn Hwy Tampa, FL 33624 Nov. 1-3, 2016. $1 for every pound of candy donated.  
Randall A Diez, DMD PA 3112 W. Kennedy Blvd, Suite A Tampa, FL 33609 (813) 874-5869 Nov. 1-3, 2016. $1 for every pound of candy donated.  
Eye Docs Optical 3384 Tampa Rd. Palm Harbor, FL 34684 (727) 491-3786 Nov. 1-4, 2016 from 9 am-5pm: Every lb of candy gets an entry into their $50 Giveaway. Every lb of candy gets you $10* off one pair of glasses. Restrictions:*Up to $50 off a pair of glasses. Cannot be combined with insurance or any other discounts.  
New Tampa Pediatric Dental 2242 Ashley Oaks Cir. Wesley Chapel, FL 33544 (813) 991-5300 Nov.1-4, 2016, During reg business hours: For every pound of candy your child brings in they will receive one token for their prize machine.  
Staves Pediatric Dentistry 5310 4th Street N St Petersburg, Fl, 33703 (727) 526-5900 November 1-2, 2016: Trade in your candy for a bag of toys, toothbrush, and menchies gift card AND be entered into several drawings for gift cards!  
Goodnight Orthodontics 6538 Gunn Hwy Tampa, FL, 33612 Nov. 1-4, 2016 during regular business hours. For every pound of candy, receive $1. Up to $5 only, however you may donate more.  
Goodnight Orthodontics 3223 S Dale Mabry Hwy Tampa, FL 33629 www.goodnightortho.com  
Dental Wellness of Westchase 11321 Countryway Blvd Tampa, Fl, 33626 (823) 855-2273 Thursday, Nov. 3, 2016 from 2:30-5:30 p.m.  
Monticciolo Family and Sedation Dentistry Nov 1-4, 2016 from 3-5 p.m. at all four locations below: 5139 Little Road New Port Richey, FL, 34655 8381 Seminole Blvd. Seminole, FL, 33772 4850 1st Ave N., St Petersburg, FL, 33713 8327 W Hillsborough Ave., Tampa, FL, 33615