Hillsborough prepares for results of King High School cemetery search
TAMPA, Fla. - The Hillsborough County School District convened its Historical Response Committee Monday, tasked with determining how to handle the search for unmarked graves at King High School and what to do if they're found.
The committee gathered at the Hillsborough County Public Schools building, where School Board Chair Tamara Shaburger and Superintendent Jeff Eakins discussed the steps taken at the school so far and how to move forward.
The group included community leaders, faith-based leaders and state and local elected officials.
"Somebody has got to right this wrong," said Yvette Lewis, president of the Hillsborough County NAACP. "This is not the first or the last [unmarked cemetery]. There are going to be more that are found. We have got to do something."
Geophysical technicians began searching last week for the lost Ridgewood Cemetery on the King High School grounds. Ridgewood is believed to have been the final resting place for more than 230 paupers, almost all of whom were African Americans.
"Our ancestors are talking to us," Lewis said. "It hurts. We have been through a lot in this city. We are a part of this city. Where is our history? I keep asking that."
The district is waiting for the results of the ground-penetrating radar survey that was conducted last week.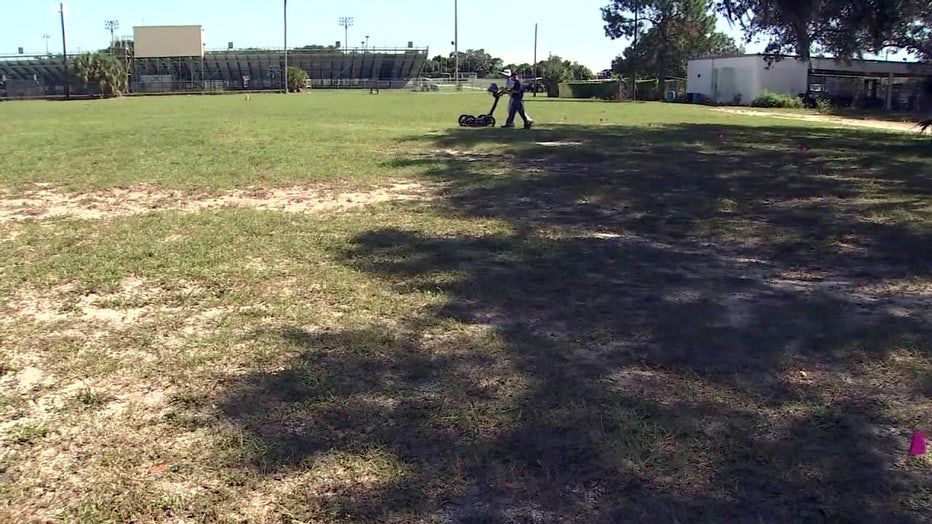 This is at least the second forgotten African American cemetery uncovered this year. Crews had been trying to locate hundreds of unmarked graves at the Zion Cemetery, which was buried under the Nobles Park housing project.
"There are undoubtedly more cemeteries out there that are waiting to be discovered," said Rodney Kite-Powell with the Tampa Bay History Center, who explained what happened to these cemeteries in the 1900's.  "There was no one looking out for the past and so in the '20s, when Zion was covered up, and in the '50s and '60s when Ridgewood was, both of those are times of incredible growth in the city and so it was almost a desire not let anything hamper that growth."
Rep. Wengay Newton is on the school district's committee and said what happens in Hillsborough County could affect what lawmakers do in Tallahassee.
"It seems like it's been standard operating procedure to develop on top of African American grave sites." Newton said. "We are going to make sure that we have funds in place to locate any of these sites and also look forward to putting legislation in place to remedy what we do after we do [find them] because obviously we can't undo what has been done but we can have some guidelines going forward in a bill."