Infant dies after sexual assault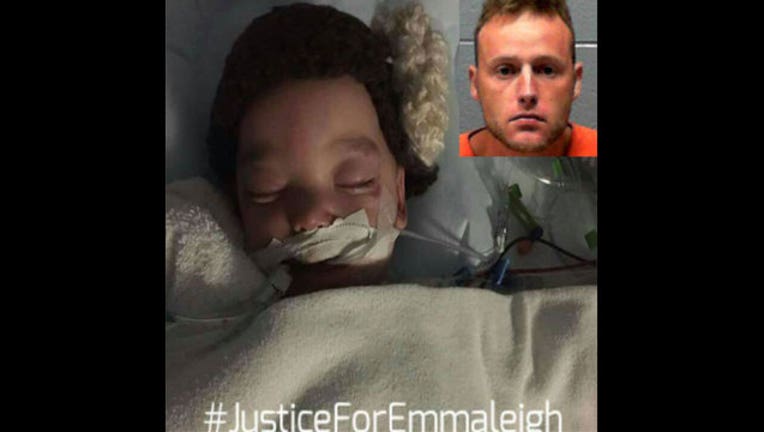 article
 Authorities in West Virginia say a 9-month-old sexual assault victim has died.  Jackson County Sheriff Tony Boggs said the girl died of her injuries at a hospital Wednesday.
Thirty-two-year-old Benjamin Taylor of Cottageville was charged Monday with first-degree sexual assault. Taylor is the boyfriend of the victim's mother but is not the child's father.
An additional charge is pending.
According to a criminal complaint, the baby had extensive bleeding and a body temperature of 90 degrees. The complaint says the injuries indicated a violent sexual assault, as well as shaking or striking of the face.
Taylor told deputies he took the baby to the basement of an apartment while doing laundry. He said he "blacked out" and didn't know how the baby's injuries occurred.
It's unclear whether Taylor has an attorney who could comment on the case.

The girl's family released this statement.
At this time, we regret to say that the injuries sustained from the attack on our child, Emmaleigh Elizabeth Barringer, have resulted in her death. First, we would like to thank the Jackson County police for their thorough investigation. We believe that it points directly to Benjamin Taylor as the person responsible for this heinous act. Second, we want to thank the hospital and staff at CAMC for their efforts in attempting to save and sustain the life of our child. Finally, we would like to assure anyone with any doubt that this crime against an innocent child was solely perpetrated by a monster who had disguised himself as a caring and supporting friend. Emmaleigh's mother and surviving siblings were victims in this and are guilty only of placing trust in the hands of a "wolf in sheep's clothing".
We have set up a GoFundMe account for donations from the public to help the victims recover from this tragedy and aid in the funeral and burial costs that will be incurred.
Thank you
https://www.gofundme.com/3oe5us
With the Associated Press