Jury sides with corrections officer accused of battery after alleged victim testifies
TAMPA, Fla. - It took a jury just 30 minutes to determine who was telling the truth in a criminal harassment case involving two law enforcement officers.
Defendant Frankie Perez, a correctional officer for the Federal Bureau of Prisons in Coleman, once dated the alleged victim, Denise Correa, who works at a security guard at the University of Tampa campus.
As law enforcement officers, Perez and Correa took an oath to serve and protect. However, in a Tampa courtroom Thursday, Correa testified that she needed protection from Perez after their romantic relationship soured.
Prosecutor Nathaniel Mendoza explained it during opening statements.
"She told him she was leaving him. She didn't want anything to do with him anymore," said Mendoza.
The two dated for years. The relationship ended in December 2021.
Correa testified that, after the breakup, Perez began stalking and harassing her. Correa filed a restraining order against Perez last April, after an altercation the month before.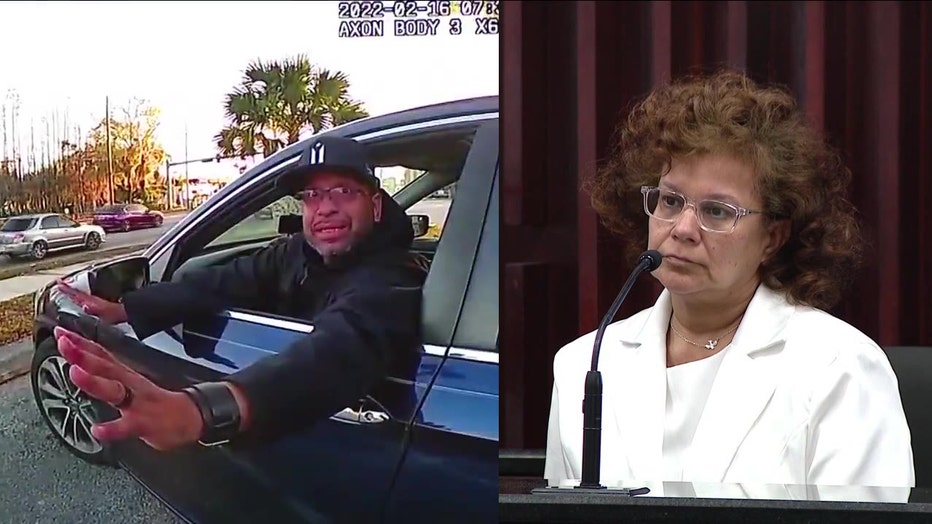 Body camera video showed traffic stop after Perez allegedly crashed with Correa
Correa claimed she was on Interstate 275 near the Bearss Avenue exit when she notices Perez following her and driving aggressively.
She said she took the next exit and tried to lose Perez. That's when, she claimed, he hit her car, causing damage to her left bumper. She said she feared for her life.
"I was too traumatized to sleep," explained Correa.
However, during a stinging cross-examination by Perez's attorney Bryant Camareno, Correa conceded the crash may have been her fault.
Camareno pointed out, while driving on a surface street, Correa made a sudden and wide U-turn in front of Perez's vehicle and that may have caused him to clip the left side of her bumper.
In police body camera video following the incident, Perez denied hitting Correa's car intentionally. He claimed the opposite happened.
"She hit me! And I guess I have to make a report right now," Perez told the responding officer.
The jury believed Perez. After a short deliberation they found him not guilty of aggravated battery with a deadly weapon.
Perez left the courtroom a free man and will keep his job in law enforcement.