'Kiss Calf' surprises Texas ranchers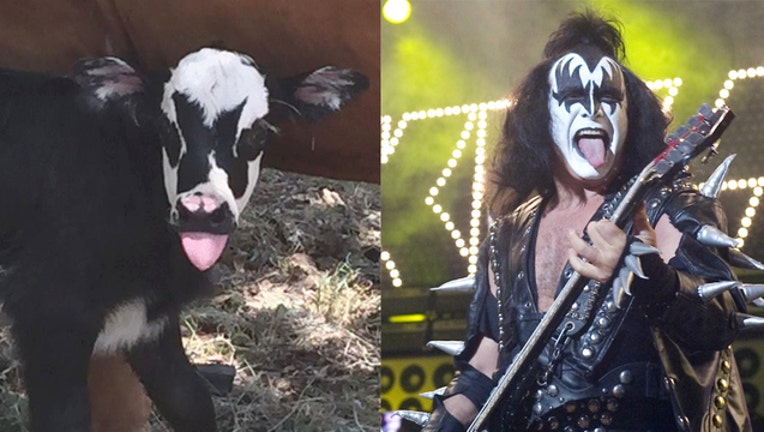 article
KERRVILLE, Texas (FOX 13) - A 25-year-old cow thought to be past her calf-bearing years made a surprise delivery at a Texas cattle ranch, but it wasn't just the birth that had the ranch owners' jaws agape. 
Drew Taylor with Hill Country Visitor said it started when the granddaughter of a ranch owner showed him a picture of the unusually-marked calf.
Taylor, who manages the Texas region's visitor's bureau, Hill Country Visitor, said he and his wife were having dinner at the Cowboy Steakhouse when an employee named Heather approached him with a photo.
The picture was of a calf with its tongue sticking out. Taylor said his first thought was, "that looks like Gene Simmons!"
Taylor posted the photo on the Hill Country Visitor Facebook page and, within 24 hours, the photo was taking over social media.
Heather, who helps her grandmother manage her ranch, said they didn't even know the cow who gave birth to Simmons' Doppelganger calf was pregnant. The 25-year-old mother cow had not given birth in some time and her most recent pregnancy ended early on. Taylor says when Heather laid eyes on the surprise delivery, she was in shock.
Even more shocking was that the baby's tongue continues to hang from its mouth. It seems determined to live out its legacy as a rock star.
Taylor says he has enjoyed telling the calf's story, but still has one goal in mind.
"I want Gene Simmons to come to Kerrville. I'll buy him a steak at the Cowboy Steakhouse. He needs to meet his little protégé," he told FOX 13 News with a laugh. 
So, if Gene Simmons is reading, Drew Taylor with Hill Country Visitor is ready for your call.