Manatee Technical College training A/C repair techs -- free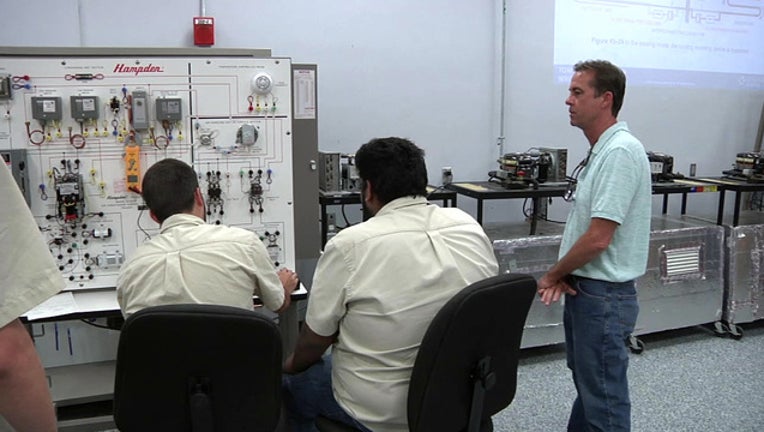 BRADENTON, Fla. (FOX 13) - One thing we can't live without in Florida is air conditioning, but there's not enough people to install, replace and repair A/C units. 
"It's just hard to find good technicians. There are people who can make things work again and then there's people who fix things," said Brian Forbes. 
Forbes, a licensed air conditioning contractor and HVAC instructor at Manatee Technical College, is working to fill a void. 
"The senior technicians are retiring and there's not enough people to replace them. It's a big demand," he continued. 
Twelve local air-conditioning companies have partnered with Manatee Technical College to help find and train new technicians for free.  Students who complete the three-month course will have a guaranteed job, starting at $15 an hour. 
College administrators said it's a fast track to success. 
"What this gives them is an entryway into employment with these companies, but that's not the end. We don't want to train them in the job and that's all they do. Once they are in those companies and they prove themselves as a good employee and they're adept to the industries, then there are other opportunities," offered Martha Meyers. 
A bulk of the class will be hands-on learning installation. 
"There are people out there that really need this and they just don't know these opportunities are out there. They don't come up every single day," said Meyers. 
It's a hard job, but one that's in demand and here to stay. 
"The electrical and the air-conditioning process -- especially here in Florida -- is never going to stop. Even during the recession, if you're a technician, you are going to have a job," continued Forbes. 
If you are interested in applying, email MeyersM@manateeschools.net. Twelve students will be hand selected; interviews will take place on December 10, 2018. 
If you are not selected, Manatee Technical College offers several forms of financial assistance for all of their programs. In some cases, students receive enough scholarship money to cover all of their tuition.