Marines await Hurricane Irma at Raymond James Stadium
TAMPA, Fla. - First responders and even some military vehicles are staging at Raymond James Stadium in Tampa as Hurricane Irma approaches. 
The Marine Corps amphibious assault vehicles, Humvees, and other vehicles turned heads as they were moved from their waterfront barracks near the Gandy Bridge.  They wanted to remain accessible and ready to go even after the Zone A evacuation order was issued.
The tracked vehicles – which can float if needed – were still drawing a crowd as they sat outside the home of the Tampa Bay Buccaneers today.  Some were even posing for photos with the trucks.
"We had seen these here before, for another hurricane," one neighbor offered.  "For us, it means we've got a lot of safety here just in case people need help or get trapped inside their house. I like to see these here."
Video of the string of military vehicles was seen rolling through the streets of Tampa Saturday, providing a reassuring sign for residents in the area.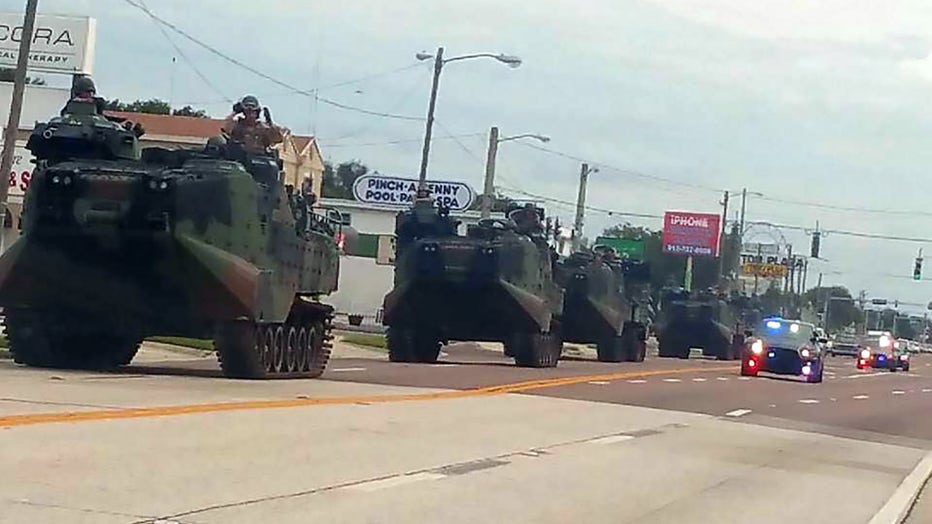 Jeremy with Grizzly Targets took video of U.S. Marines amphibious assault vehicles rolling down Dale Mabry in Tampa.
Other law enforcement and first responder teams are hunkering down deep inside the tunnels of the stadium.  Several vehicles parked inside the structure for protection from the storm, which is expected to be a Category 2 or 3 when it arrives overnight.
LINK: Track Irma on MyFoxHurricane.com
The Buccaneers were scheduled to open their NFL season in Miami today, but that game was postponed until later in the season due to the storm.