Meet the candidates for Florida governor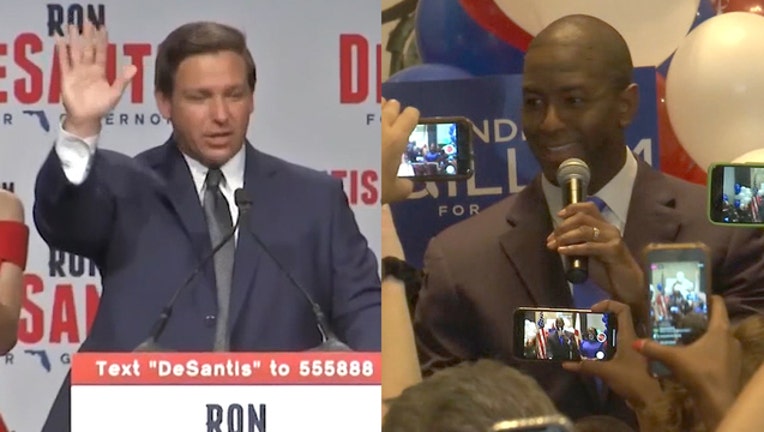 article
(FOX 13) - Controversy began to swirl around Florida's race for governor less than 24 hours after polls closed on the primary election.
Republican nominee and Trump surrogate Ron DeSantis made a comment on Fox News that raised some eyebrows.
It could become one of the most striking - and talked about - races in the nation, starting with primary results that caught both sides by surprise, at various levels.
The sudden rise of Ron DeSantis
President Trump personally endorsed Ron DeSantis in Tampa, calling him "a tough, brilliant cookie."
That defining moment of the Republican race for governor played over and over again in ads across the state leading up to August 28.
WATCH: Meet Ron DeSantis, Republican candidate for Florida Governor
%INLINE%
DeSantis won the Republican nomination by clinging to President Trump, but three years ago, DeSantis wasn't quite sold. In a 2015 interview with FOX 13 Political Editor Craig Patrick, then-congressman DeSantis said Trump was not to be taken seriously.​
​​​​​​Patrick: What's the first word that comes to mind when I say 'Trump?'
DeSantis: Ha, celebrity.
Patrick: Do you think having Donald Trump in the race is good for the Republican party?
DeSantis: I don't think he affects the party as a whole because he's such his own brand.
At the time, DeSantis was a young congressman gearing up for a Republican U.S. Senate race against David Jolly.
But then, Marco Rubio changed his mind and ran for re-election, leaving Jolly to become an on-air analyst for FOX 13's coverage of the primary election. It also left room for DeSantis to become the Republican nominee for governor.
Ron DeSantis grew up in Dunedin, graduating from Dunedin High School. He got an Ivy League law degree, became a military prosecutor, and he's a combat veteran who fought in Iraq.
He won a seat in Congress in 2012 and built a name for himself as a conservative reformer and outspoken supporter of Israel. He led the push to move the U.S. embassy to Jerusalem before Trump and became a leading voice on discussion TV shows, including on FOX 13.
In a December 2017 interview, FOX 13's Craig Patrick asked DeSantis, "Why grant this concession without getting something in return?"
DeSantis responded, "Israel has put a lot of peace proposals on the table."
He became a regular on Fox News and close ally of President Trump in Congress and he rode that to victory in the race for governor, which now brings us to ask who he'll pick as a running mate.
He may have left us a clue in one of his previous interviews:
"We went more than a year without a lieutenant governor. Do we need a lieutenant governor?" FOX 13's Craig Patrick asked.
"I'm not sure, to be honest with you. I'll leave that to people who are involved in the Tallahassee scene," DeSantis responded.
How Andrew Gillum stunned his rivals
Tallahassee Mayor Andrew Gillum was wearing out shoe leather long before his rivals entered the race.
He asked FOX 13 to vet him early last year and we noticed something different from the start.
He answered questions with candor that a lot of politicians tend to evade - and he kept asking for more, with a second round in the hot seat in January.
WATCH: Meet Andrew Gillum, Democratic candidate for Florida Governor
%INLINE%
Along the way, he demonstrated a strong grasp of issues, from transportation to the water pollution crisis more than a year before it took off in the news cycle.
"We've got to build high-speed rail that moves people from population centers of Central Florida to the population centers of South Florida," Gillum told FOX 13's Craig Patrick. "Our environmental protection, which had guacamole content flowing out of the east and west side of the state, impacting tourism, those are the things Floridians want to talk about."
He was itching for a debate and when we hosted the first one in April, we saw why. He had the common touch. He had a compelling personal story that stood out. He was also the only non-millionaire in the race.
"I watched my parents trade between which bills they can pay before something got cut off," Gillum explained during the debate. "To my mother who was a school bus driver and my daddy who was a construction worker. I'm the fifth of seven kids and the first of the seven kids to graduate high school and the first to graduate from college."
He stood out for doing his homework, while others were unprepared.  During the debate, opponent Philip Levine guessed the state's spending for K-12 schools was in the "multi-billions," but Gillum was able to specify the number: $22 billion.
Gillum also staked out the progressive lane in those debates, calling for legalizing recreational marijuana and expanding Medicare for all.
The progressive base noticed, and progressive icon Bernie Sanders noticed, giving him a heck of a boost near the end, while progressive mega-donors Tom Steyer and George Soros fed him with cash. 
Meanwhile, billionaire Jeff Greene spent millions on attack ads tearing down Gwen Graham and Philip Levine, leaving Andrew Gillum unscathed and able to fly mostly below the radar until he surged on Tuesday night.