More than a million Florida voters have already cast their ballots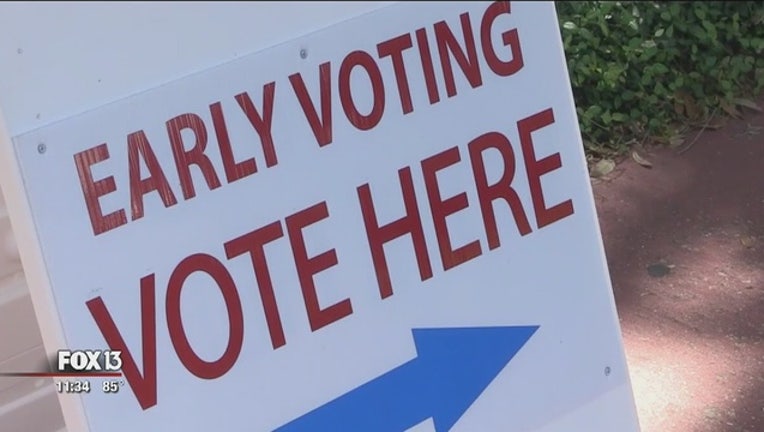 TAMPA (FOX 13) - Day two of early voting is all wrapped up and counties throughout Florida are seeing huge numbers, both at the polls and via vote-by-mail ballots.
The latest data statewide counts more than a million vote-by-mail ballots received with nearly 122,000 coming out to the polls for early voting. Of those totals, Republicans account for 43 percent with Democrats bringing 39 percent.
"Yesterday, we received 1,400 calls at our call center - where can I early vote? Where do I do this, where do I do that?," said Hillsborough County Supervisor of Elections, Craig Latimer. "It's wonderful to see people engaged."
Four Tampa Bay counties opened Monday for early voting. By Tuesday, in Hillsborough, more than 19,000 had come to the polls with more than 91,000 vote-by-mail ballots received. More than 9,000 came out to the polls on Monday, which is a turnout that exceeded the first day of early voting of the 2014 midterm election.
Pinellas County has received over 104,000 in the mail with nearly 5,400 early voters. Sarasota, so far, has accounted for more than 56,000 early and mail-in voters, with DeSoto's latest totals close to 700. 
Florida voters have a lot to think about. They will decide the outcome of an extremely tight race for Governor, one of the most closely-watched U.S. Senate races in the country, not to mention, vote on a laundry list of amendments.
Last minute advice from the expert? Be prepared and do your research ahead of time.
"Go now," Latimer said. "Get it out of the way because you may end up in a line if you wait til the last weekend to vote at early vote sites."
If you haven't gotten to vote yet, you'll get your chance soon. Wednesday, early voting sites will open in Pasco, Hernando and Manatee Counties. By Saturday, early voting will be open in all 67 Florida counties.