Multiple gas pump skimmers possibly found in Highlands County, officials say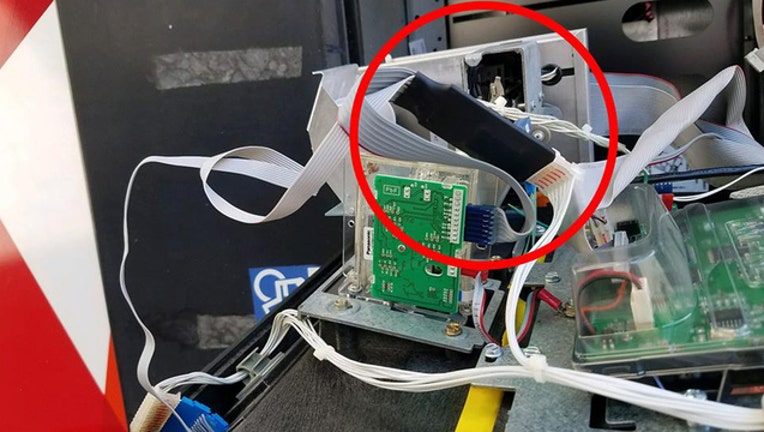 AVON PARK (FOX 13) - Possible gas pump skimmers have popped up around Highlands County, officials say.
One confirmed skimmer was located at a gas station on U.S. Highway 27 and West Allamanda Drive, north of Avon Park. Another suspected skimmer was found in Avon Park, and several other potential gas pump skimmers are still under investigation, according to the Highlands County Sheriff's Office. 
Anyone with information regarding the skimmers are asked to call the agency through Heartland Crimestoppers at www.heartlandcrimestoppers.com or 1-800-226-8477. 
Detectives said whenever someone pumps gas, there are some precautions to take to avoid falling victim to a skimmer:
-- Pay with cash or pay inside. This is the best way to avoid being skimmed. 
-- If you have to pay with a card, use a credit card rather than a debit card. Credit cards have more built-in fraud protection and are not directly connected to your bank account. 
-- Check the seal on the pump. It should be intact. If it has been broken, it will likely say "void" on the seal. If you suspect the seal has been tampered with, notify the employees and pick a different pump.
-- Avoid the pumps that are far from the store. Stick with the ones that can be seen from the windows of the station and stay away from the ones on the far ends of the line.
-- Pull on the card reader. If it is loose, that may be a sign that it has been tampered with. Notify the employees. 
-- A new trend is for skimmers that work on Bluetooth. Use your phone to look for a Bluetooth signal -- usually labeled with a series of numbers/letters instead of a name. There are also apps that can help your phone ID skimmer signals. 
-- Pay attention when you are at the pump and let the employees know if the pump seems to be acting up, particularly if the keypad seems to be malfunctioning or if the pump is slow to respond.
-- Keep an eye on your account. Many banks can send you text notifications every time your account is used. It's a good way to spot fraud.