New portion of State Road 52 opened in Pasco County
DADE CITY, Fla. - The Florida Department of Transportation opened a new portion of State Road 52 in Pasco County Friday that local and state leaders hope will alleviate traffic in a fast-growing part of the Tampa Bay area.
A ribbon-cutting ceremony marked the official opening of the section of road that begins east of Interstate 75 and ends at U.S. 301 near Dade City. It will bypass the older portion of State Road 52 that takes drivers past San Antonio and St. Leo University and eventually into downtown Dade City.
READ: Hillsborough commissioners approve plan for transportation tax money to send to Tallahassee
"All this growth has created a lot of traffic, and these roads are very important to move this extra traffic," said Pasco County Commissioner Ron Oakley. "I lived here my entire life, I was born and raised in Dade city, and his Pasco County is my home, and I really am thrilled about all the things to come."
The road's opening comes as the county continues to experience unprecedented growth. Pasco's population has seen a nearly 30% increase since 2010, according to the U.S. Census Bureau.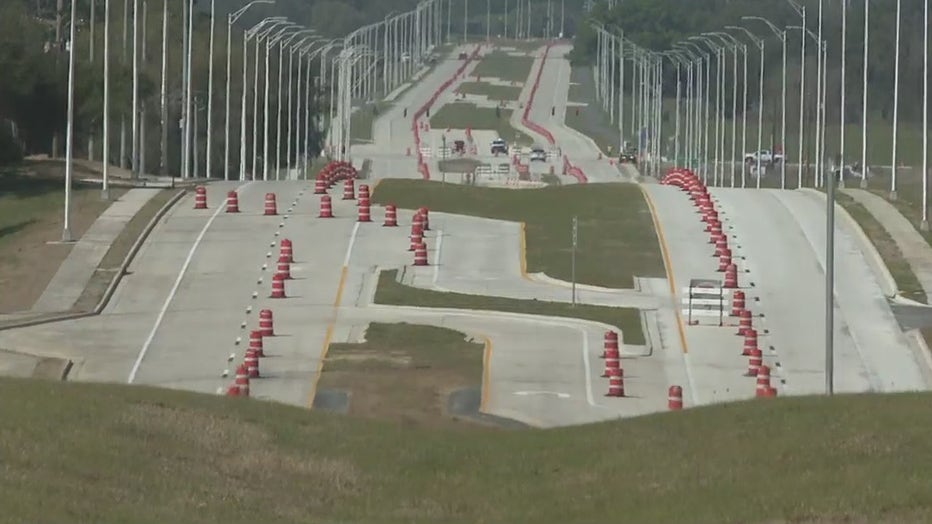 The growth isn't slowing, particularly in eastern Pasco County. In Dade City alone, Mayor James Shive said there are 19 planned residential projects that will add about 7,000 new homes. Shive said the population of his city is expected to skyrocket from about 7,200 to 21,000 in the next five to 10 years.
MORE: Florida communities receive about $65 million from federal grant to help makes streets safer
"We're very excited about it because it's going to bring a whole new dynamic to Dade city," Shive told FOX 13. "I believe it'll bring more people this way. Florida continues to grow, everybody is moving to Florida, so you got to have the infrastructure in place."
When it's completed, the State Road 52 project will be a four-lane, seven-mile stretch of road. 
FDOT announced it also recently secured funding to expand State Road 52 in East Pasco County, eventually creating a four-lane road from U.S. 19 all the way to U.S. 301.