'Nothing, but a journey': Former Cambridge Christian, Florida Gator working towards NFL opportunity
TAMPA, Fla. - University of Florida Gators offensive tackle Richard Gouraige is pumped about his future that lies ahead. Gouraige, who played high school football at Cambridge Christian in Tampa, is projected to be the Tampa Bay area's highest pick, meaning his lifelong dream is within sight.
"I'm excited for the next couple months of my life," Gouraige told FOX 13 Sports. "Hopefully have an opportunity to play for one of those great teams."
Gouraige just returned from the Senior Bowl where he got his first taste of what the next level will be like. The former 4-star high school recruit and Gator captain made a strong impression among the 32 NFL teams. 
READ: Sand where Tom Brady announced retirement up for bid on eBay, could sell for over $100,000
His versatility to play both tackle and guard along with his 6-foot-5-inch frame will draw interest from many teams. Gouraige believes he has a lot to offer.
"I feel like this league is 70/30% of pass/run," said Gouraige. "I'm definitely a pass protector in this league, and I love running the ball for sure. I like to dominant the line of scrimmage and imposing my will against those guys. Moving a guy from point A to point B against his will."
Gouriage's training has come full circle. He's back in Tampa and back with Yo Murphy at the House of Athlete, who he began training with in high school.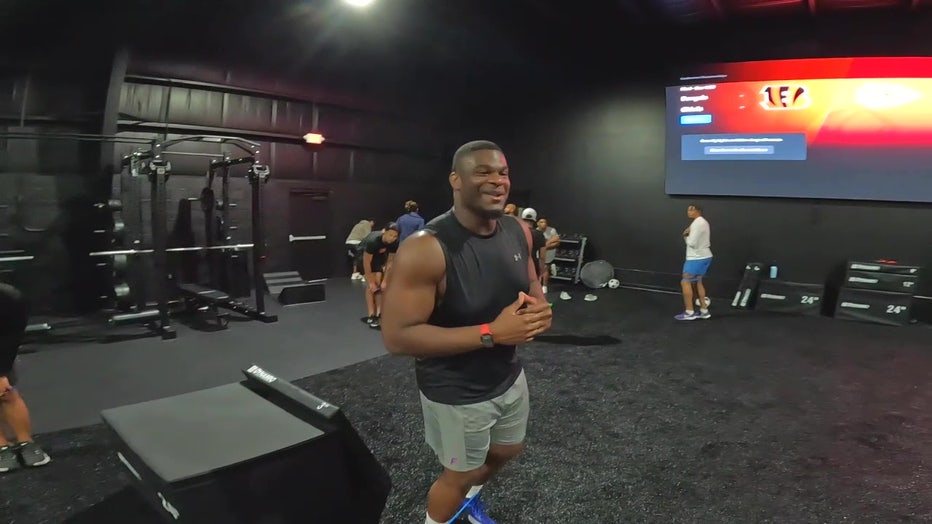 "It was nothing but respect to come back where I was from and getting coached by the greatest guy in the country, in my opinion."
MORE: 'Fly Eagles Fly': Amazon's Alexa predicts Philadelphia Eagles will win Super Bowl LVII
For years Gouraige only had to look around the training facility for encouragement, and he couldn't miss seeing all the NFL jersey's on the wall.
"One day my name is going to be on a jersey and leave a legacy at this place that I came in and did what I had to do. He [Yo] saw me spread my wings as a butterfly really," Gouraige said
Gouraige is focused on preparing for what's next: The NFL Combine. The Draft is still a few months away, but it's not hard to think about what's going to be like when his life dream becomes a reality and a team calls his name.
"It's going to be a true blessing for sure," said Gouraige. "Knowing that a kid coming from Cambridge Christian, a little private school. It's been nothing but a journey, but I'm really excited."