Officials: Dog that killed baby had passed agency screening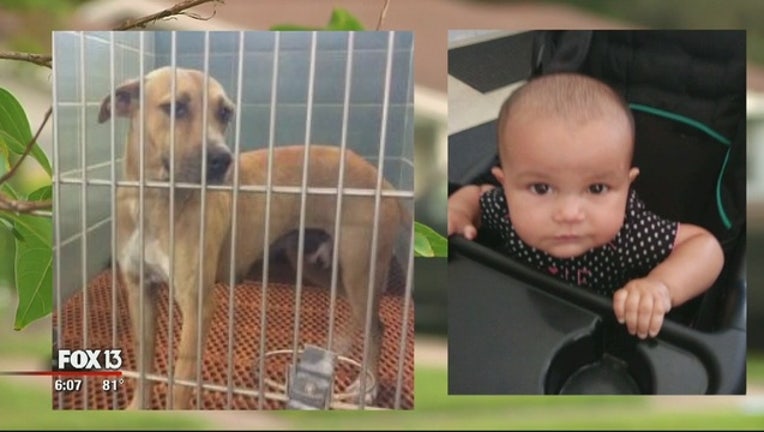 article
CLEARWATER (FOX 13) - Caged and quarantined: The fate of the dog that attacked and killed 7-month old Khloe Grossman is as unclear as the details of the investigation.
"We have not had any discussion with the dog owner, the family, at this point," said Doug Brightwell of Pinellas County Animal Control. "So we've got what information we got from the police department."
But Clearwater police are tight-lipped about what happened Friday afternoon when EMS responded to a home on Fairwood Avenue.  
Police are now confirming the foster father is detective Jonathan Maser. At the time of the attack, Maser's parents were babysitting. The dog, described as a mixed breed, belongs to them. It was adopted from Pinellas County Animal Control.
"It actually came into our agency as a stray at the beginning of the year, and it was adopted out through our program in March of this year," explained Brightwell.
But Brightwell says it never showed signs of violence.
"We evaluate them for any demonstrations of aggression toward other dogs. We also evaluate them for aggression toward people. And we have trained staff who do that," he said.
Carrie Woodell, a subject expert on the interaction between dogs and babies, says there's more to it. 
"Some dogs are better at masking certain behaviors," Woodell said. "Especially dogs that are picked up off the streets."
The details involving how the attack happened remain unknown -- even to Khloe's birth mom, Shavon Grossman, who was working to get her daughter back.
"She wasn't old enough to crawl," Grossman said. "She wasn't old enough to walk. I don't understand. I just want answers for this."
Grossman's lawyers tell us they are launching an investigation of their own. They say the attack happened an hour after Grossman returned Khloe to the foster family, following a visitation.
She learned about it in a phone call from DCF.
"A dog bite can happen very fast, there can be minimal trigger," Woodell said. "It could be something as simple as the baby flinching and screaming. And if you have a dog that has strong predatory behaviors, that could cue the dog to go in to bite, grab."