Chef Tina Yu reveals her recipe for Chinese braised pork
TAMPA, Fla. - Have you ever been curious about what is in traditional recipe for Chinese braised pork?
Photojournalist, Jason Wright was able to see firsthand how an expert in Chef Tina Yu prepares the dish. 
INGREDIENTS:
12 ounces to a pound of Pork belly (skin on) - cut into 2-3 cm cubes (about 3/4 to 1 inch squares)
2 tablespoons of Oil 
Soy sauce (both light and dark) 1 tablespoon light 1 1/2 tablespoon dark
Rice wine, 3 tablespoons to full to a cup (to taste) - get a low salt version to cut down on bitterness
1 tablespoon Rock sugar or granulated sugar
Spices, ginger, star-anise and bay leaf (to taste)
2 Cups of Water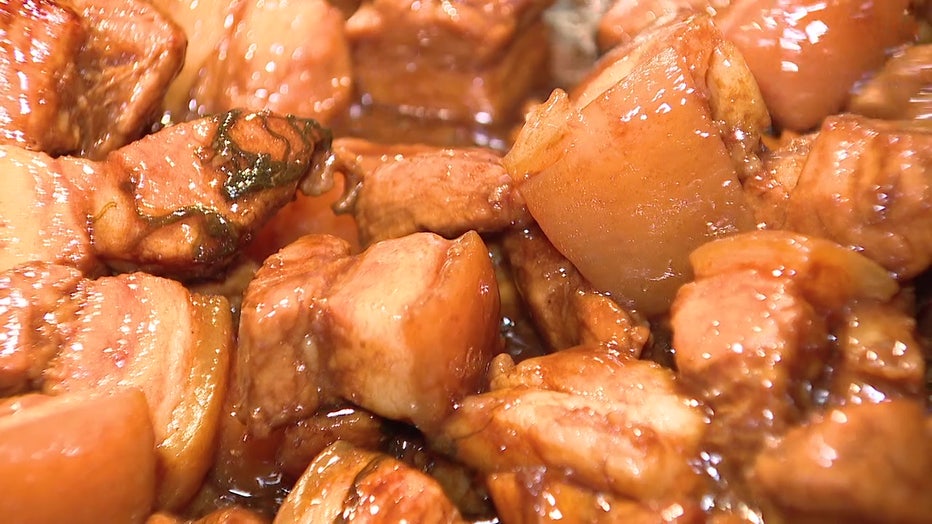 INSTRUCTIONS:
1.) Cut the pork belly into cubes.
2.) In a pot or pan medium heat, add pork cubes, cook both sides 2mins. Until the meat is a little brown.  (because the pork belly is fat, so you don't need add oil)
3.) Reduce to low heat, add boiling water, add sugar, add Rice wine, mixture of light and dark soy sauce, bring to a full boiled water.  Cook covered for 40 minutes on low heat. 
4.) The last 10 mins, uncover the pot, high heat until the water is almost gone. 
5.) Stir in the chopped spices to taste.
NOTE: Dish is done when pork is tender.
If there is too much liquid, turn up the heat, uncovered, stir until the sauce is reduced to a glistening glaze over the meat.
Best served as a topping over steamed rice with blanched vegetables on the side (broccoli or bok choy for example)