Plans released for proposed transportation tax increase funds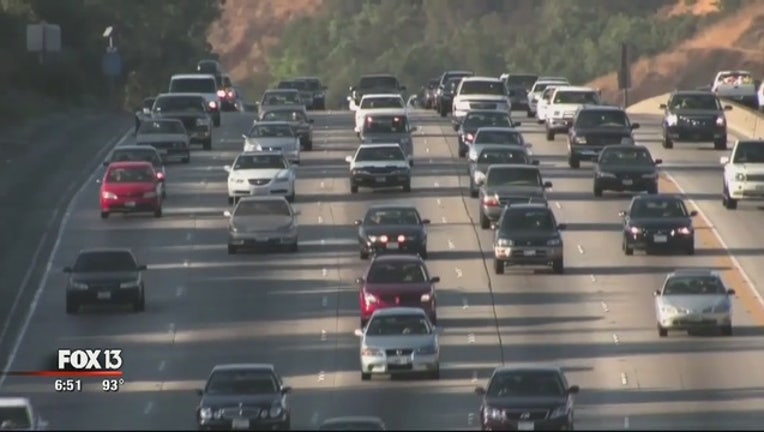 TAMPA (FOX 13) - The group responsible for the proposed transportation sales tax increase on the November ballot released its first detailed breakdown of the projects that could receive funding should Hillsborough County voters approve the referendum.
Tyler Hudson, with All for Transportation, said just about every road in the county would see improvements.
"The reason things are as bad as they are right is because we just don't invest enough in transportation," Hudson told FOX 13. "We think the All for Transportation plan is the most specific plan that's ever been put in front of voters, that's because there are very clear guidelines about how it's going to be spent, where it's going to be spent."
The list of potential projects includes "safety improvements and expanded transit service on thousands of miles of roads," including work on: 40th Street, 50th Street, 56th Street, U.S. 301, Bearss Avenue, Big Bend Road, Bloomingdale Avenue, Brandon Boulevard, Busch Boulevard, Columbus Drive, Dale Mabry Highway, Ehrlich Road, Fletcher Avenue, Florida Avenue, Gunn Highway, Hillsborough Avenue, Lithia Pinecrest Boulevard, Lumsden Road at Causeway Boulevard, Martin Luther King Boulevard, Sheldon Road, Sun City Center Boulevard, Temple Terrace Highway and Waters Avenue.
"Our roads are in poor shape right now. They're too congested. They're too potholed. There aren't enough turn lanes in the correct places," he said. "We're talking about fixing potholes, making lights work better, smart traffic lights, things like that, adding turn lanes."
Hudson said a large chunk would be used to expand bus service, which has been cut down in recent years.
Not everyone, however, is on board.
"The transportation tax is all about the wants of downtown developers and wealthy sports team owners," Karen Jaroch has previously told FOX 13.
Jaroch is the former Vice Chair for HART bus line and now lobbies for the conservative organization, Heritage Action for America. She wants to stop this tax in its tracks.
"They are selling this as road improvements, but this is is a backdoor way to fund a rail system that is not cost-effective," she said.
Hudson said that just not true but adds rail is not out of the question down the road.
"The majority of our funding is focused on the problem we have right now today, which is roads," he said, adding there's a roughly $9 billion backlog for transportation improvements. "This is going to fund transportation improvements in a lot of different ways in every single part of the county, so a portion of this public transportation spending could absolutely be spent on a rail plan."
Hudson said every road in the county would also have potholes filled and be re-surfaced. Traffic light timing would be improved at more than 640 intersections and roughly 600 miles of new traffic lights would be added.