Undercover deputy involved in shooting at Brandon Westfield Mall: HCSO
BRANDON, Fla. - One man is in jail and another on the run after an undercover gun buy turned into a robbery, forcing the Brandon Westfield mall to go into lockdown mode Monday afternoon.
Around 4 p.m., the Hillsborough County Sheriff's Office said an undercover deputy was buying guns off two men in the employee parking lot near the Cheesecake Factory, trying to get the guns off the streets.
"The deal started in our detective's car. They robbed him while one of them was sitting in the car and the other was outside and then once our backup units moved in they fled through the parking lot," said Chief Deputy Donna Lusczynski of the Hillsborough County Sheriff's Office.
The undercover deputy was robbed at gunpoint, and then the suspects ran off, at least one of them firing shot at other deputies who there for backup. No one was hurt. Deputies caught up to one suspect, and they are still looking for the second man.
"The subject that was arrested right now is Jordan Gracia. He's a 19-year-old individual. He has previously 26 felony charges already at the age of 19, 14 misdemeanors," said Lusczynski.
For many shoppers and employees at the mall, a regular day turned into a scary situation, forcing the mall to lock down.
"We were going to get my son new shoes and some jeans for schools. As soon as we entered into Books A Million, the door was locked and the guy waved me in, brushed us in and said 'We are on a lock down,'" said Kinsey Lawton, who walked into the store near the shooting scene.  "There was a lot of people sitting on the floor in the store. I was like, 'Should we sit by the bathroom that way if someone comes in the door we have somewhere to go?' So we kind of sat in an aisle."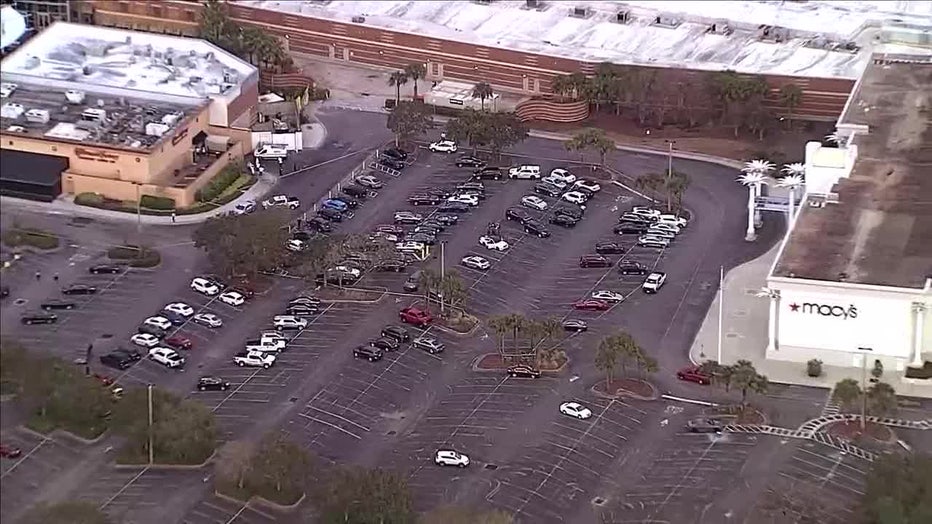 Lawton said she texted her husband to let him know what was happening.
"As I was typing in 'We're in the mall with an active shooter,' he called me so I answered and he was freaking out," said Lawton.
She said she waited in the store for about 30 minutes while her husband drove to the mall to pick them up. Mall employees were not letting people out the front doors of stores, Lawton said.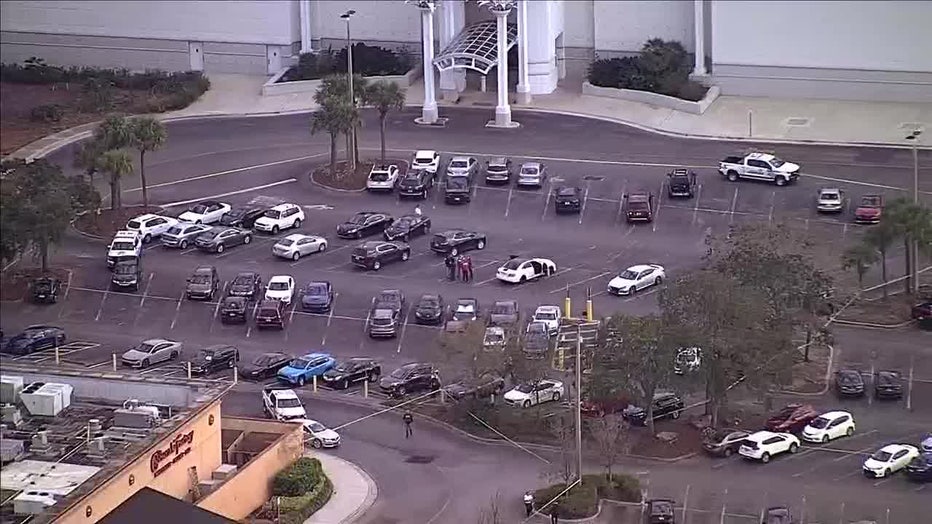 "There was a door they didn't lock, so we went around. I was like I can't die at Books A Million," said Lawton, adding that she and her kids safely jumped into her husband's car near the Cheesecake Factory and saw the customers locked inside. The parking lot had increased law enforcement presence at that time, she said.
Hillsborough County deputies said some bullets from the shooting hit a few cars. Detectives also recovered some of the guns that were for sale and kept the mall closed the rest of the day to finish their search.
"We've got to get these guns off the street and prevent them from getting into the hands of individuals like these subjects today," said Lusczynski. "We need to wonder why are these individuals with 26 felony convictions out here selling guns in a parking lot in broad daylight."
Gracia faces charges of armed robbery, being felon in possession of a firearm, and dealing in stolen property. Hillsborough County investigators said additional charges are pending.