Pumpkin spice recipes for every course
TAMPA, Fla. - October is for ghouls and gourds, specifically pumpkin and the flavor of fall, pumpkin spice. It's gone well beyond those famous lattes.
"Once people started putting it into beer, I think we reached a whole new audience. Now, you find pubs that have it on tap. You find it in desserts everywhere," said Chef Anthony LoGerfo, the managing chef of the Publix Aprons Cooking School.
You'll find pumpkin products in abundance at Publix.
"We have pumpkin coffee. The bakery is loaded with pumpkin cookies, pumpkin bread, pumpkin cake," said LoGerfo.
He said pumpkin and pumpkin spice have versatility in recipes too. His first example, a cream cheese and turkey sandwich. The recipe calls for a pumpkin spice cream cheese spread but LoGerfo has a substitution.
"I took some brown sugar and cinnamon cream cheese and stirred in some pumpkin puree," said LoGerfo.
He topped the bagel with the pumpkin mixture.
"Then, what we did we took some walnuts, give it a little bit of texture, we have some cranberry that's going to give it some sweet and tangy notes," LoGerfo said. "Then we're going to add in a little bit of protein by putting a couple of slices of turkey, roast turkey to go with the season as well and then maybe some spring mix, some greens on top."
And for added flavor, "just dust it with a little bit of pumpkin spice," said LoGerfo.
And here's a unique way to use pumpkin spice for dinner.
"What I did was I took the pork loin and we're going to do a coffee rub, so we're using a pumpkin spice coffee. We'll take some of those coffee grinds, a little bit of salt and then I added some brown sugar. You can use light or dark and then some pumpkin pie spice," said LoGerfo.
He put a little bit of oil on the raw pork roast and then rubbed the spice mixture on the pork loin.
"I did it in the oven at 325 degrees. It took about 45 minutes," said LoGerfo.
And for dessert, a twist on a campfire favorite, s'mores. Logerfo topped graham crackers with a pumpkin pie hummus and marshmallow fluff. He then toasted the top using a torch.
He adds that they can also be broiled. He then topped it with a drizzle of chocolate syrup.
"It's quick it's easy something really seasonal to put together," said LoGerfo.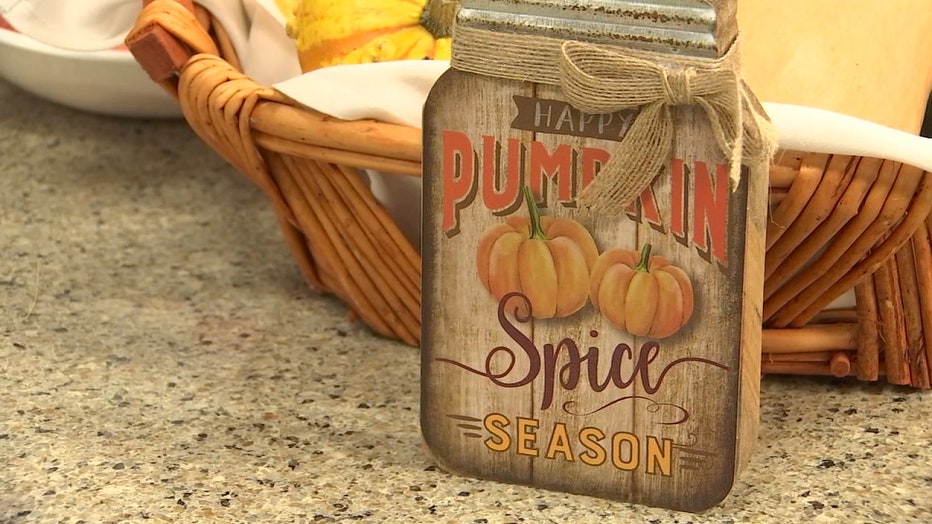 Here are the recipes
Pumpkin Spice Coffee-Rubbed Pork
(Makes 4 servings)
Ingredients:
Nonstick aluminum foil
1 (0.37 oz) pumpkin spice k-cup coffee pod
2 tablespoons light brown sugar
1 teaspoon garlic powder
1 teaspoon onion powder
2 teaspoons seasoned salt, divided
2 tablespoons olive oil
1 (1.5 lb) boneless pork tenderloin
1 (15 oz) steam-in-bag frozen mixed vegetables
1/4 cup water
2 cloves garlic, smashed
1/2 teaspoon pepper
1 tablespoon extra-virgin olive oil
Steps:
Preheat oven to 325°F. Cover baking sheet with foil and top with roasting rack; set aside. Combine in small bowl: coffee grounds, sugar, garlic and onion powders, 1 teaspoon seasoned salt, and olive oil until blended.
Remove pork from packaging and pat dry; rub with coffee mixture until coated on all sides, then arrange on prepared baking sheet. Bake 45 minutes until golden and 145°F. Transfer pork to cutting board and tent with foil to keep warm; reserve pan juices.
Set oven to broil on HIGH. Add frozen vegetables and 1/4 cup water to large oven-safe, nonstick sauté pan. Bring to boil over medium-high and cook 2–3 minutes, stirring occasionally. Smash garlic and stir into vegetables with remaining 1 teaspoon seasoned salt, and pepper. Continue cooking 1–2 more minutes, stirring occasionally, until vegetables are cooked through and liquid is just about dry.
Stir in reserved pan juices and extra-virgin olive oil until blended; transfer pan to oven and broil vegetables 5 minutes until lightly charred.
To serve, slice pork into 8 even slices and serve with vegetables on the side.
 
Cream Cheese and Turkey Sammie
(Makes 2 servings)
Ingredients:
2 plain bagels
4 tablespoons pumpkin spice cream cheese spread
2 tablespoons chopped walnuts
2 tablespoons dried cranberries
1/8 teaspoon pumpkin pie spice
6 oz thick-sliced turkey breast
1 oz spring mix salad blend
Steps:
Slice bagels horizontally and arrange on work surface, cut-side-up. Spread 1 tablespoon cream cheese spread on each bagel half.
Evenly sprinkle walnuts and cranberries over cream cheese. Top bottom halves of bagels with 3 oz turkey each; season turkey with pumpkin pie spice. Arrange one-half spring mix over turkey, then top with remaining top halves of bagels, cream cheese side down. Serve. 
Pumpkin S'more
(Makes 4 servings)
Ingredients:
1/2 cup marshmallow fluff
2 full graham cracker sheets
Parchment paper
1/4 cup pumpkin pie dessert hummus
Steps:
Preheat oven broiler on HIGH; set oven rack to highest point in oven. Add marshmallow to piping bag (or ziptop bag); snip off corner and set aside. Carefully split graham cracker sheets into individual crackers (4 crackers total); arrange in single layer on parchment-lined baking sheet.
Spread 1 tablespoon hummus on each cracker. Cover hummus with marshmallow (about 2 tablespoons each). Set baking sheet in oven and broil 1–2 minutes until marshmallow is browned and toasted. Serve warm.
Chef tip: can also use kitchen torch to carefully brown marshmallow fluff.