Restaurants offering dine-out options on Thanksgiving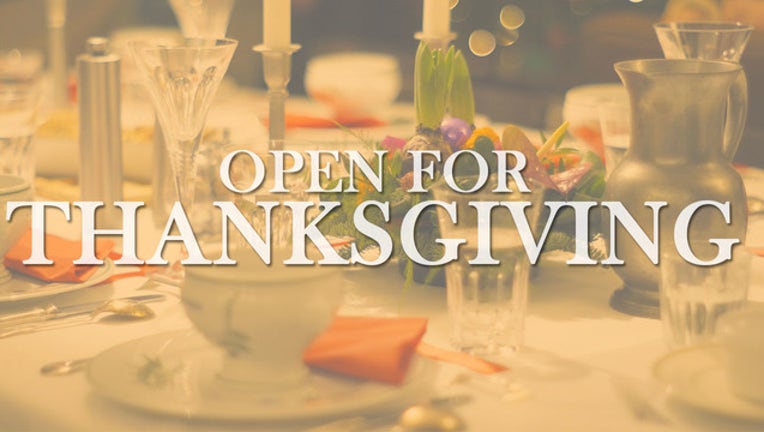 article
TAMPA (FOX 13) - If you're not in the mood to fire up your own oven for this year's Thanksgiving feast, it's alright. There are restaurants keeping their doors open just for you.
According to Plexus, more than 10 percent of the U.S. eat their Thanksgiving meal at a restaurant. Hopefully, that means it'll be easy to grab a table.
Here is an ongoing list of options in the Tampa Bay area.
Columbia Restaurant
All five locations in Florida will be open for Thanksgiving and are accepting reservations. They will be offering up a traditional meal at the cost of $21.95 for adults and $5.95 for children under the age of 10.
The Columbia Café at the Tampa Bay History Center will be closed. The location in Tampa International Airport will be open, but is not offering a Thanksgiving menu
Bern's Steak House
This iconic steakhouse will have its normal menu (which we aren't complaining about) but will be open at 4:30 p.m. and reservations are required.
Elevage Restaurant at Epicurean Hotel
Enjoy a three-course meal at the Tampa location, but be sure to make a reservation. There are at least four options to choose from for each course, including non-turkey options as an entrée. They will remain open from 11 a.m. to 10 p.m.
IHOP
Most restaurants will be open on Thanksgiving, but because all are franchises, you should double check with your local IHOP to determine whether it will be open, and if you can get their seasonal Pumpkin Spice Pancakes.
Boston Market
If you don't want to leave your home at all, you can order a Thanksgiving to-go meal that can be delivered to your door. Boston Market announced they will ship you a pre-cooked and complete meal anywhere in the continental U.S. as long as you place your order by November 19. Or, if you need to get out of the house, they will be open for Thanksgiving serving "traditional, delicious plated" meals.
Waffle House
All locations are open 24 hours, 365 days a year. So, on Thanksgiving, take your pick: breakfast, lunch or dinner?
Applebee's
Certain restaurants across the country are offering a special Thanksgiving meal with the favorites: turkey breast, mashed potatoes, gravy and garlicky green beans. Not all restaurants will be open, which is why Applebee's suggest you call your local locations for their holiday hours.
Cracker Barrel
You can "Heat n' Serve" a family meal by ordering a to-go order at Cracker Barrel. It comes with over-roasted turkey breast, cornbread dressing, turkey gravy, cranberry relish, choice of three sides, Sweet Yeast Rolls, and Pumpkin Pie & Pecan Pie. They also promise "easy-to-follow" heating instructions. They will also offer recipes for any leftovers.
The dinner is available for pickup from November 21 to 23, but it's recommended you give a 24-hour notice. You can order online.
All of its locations will be open during regular hours on Thanksgiving, from 6 a.m. to 10 p.m.
Denny's
You can get any you lunch or dinner fix on Thanksgiving at any time that day, or breakfast which is served all day. The diner already operates all day, every day of the year.
Ruby Tuesday's
The majority of the locations will be open, but operating hours can vary by location on Thanksgiving. Ruby Tuesday's advises you to give your local restaurant a call regarding their holiday hours. The front doors will also display either an "Open Thanksgiving Day" or "Closed Thanksgiving Day" cling.
Maggiano's Little Italy
A four-course meal is served up either as a dine-in option or a carryout package. Reservations are recommended if you choose the dine-in option which is $39.95 for adults and $17.95 for ages five to 12. The carryout option serves about five people and costs $200. All orders must be placed by November 17.
Bob Evans
There are three "Farmhouse Feast" to-go options that serves up to eight people. When you place an order, they are packed cold and ready to be picked up. It just needs to be heated when you get home.
Golden Corral
You get your buffet experience, with non-classic and classic Thanksgiving options. You still can get your turkey and ham, or you can also indulge in fried chicken. Contact your local Golden Corral on their holiday hours.
Ruth's Chris Steak House
This restaurant says the best meals are the ones you didn't have to worry about. A three-course turkey dinner is offered up that includes an entrée of stuffed turkey breast and your choice of a side. You can top off the dinner with pumpkin cheesecake and vanilla ice cream.
The dinner costs $39.95 for adults and $12.95 for the children's menu. Just make sure your local Ruth's Chris is open for Thanksgiving.
TGI Friday's
A spokesperson said to confirm with your local TGI Friday's to confirm their hours on Thanksgiving, but most locations will be open across the country.
Village Inn
Make sure to always check with your nearest restaurant location, but most Village Inn locations are open on Thanksgiving from 5:30 a.m. to 9 p.m.