Road rage suspect intentionally crashed into SUV, FedEx truck, deputies say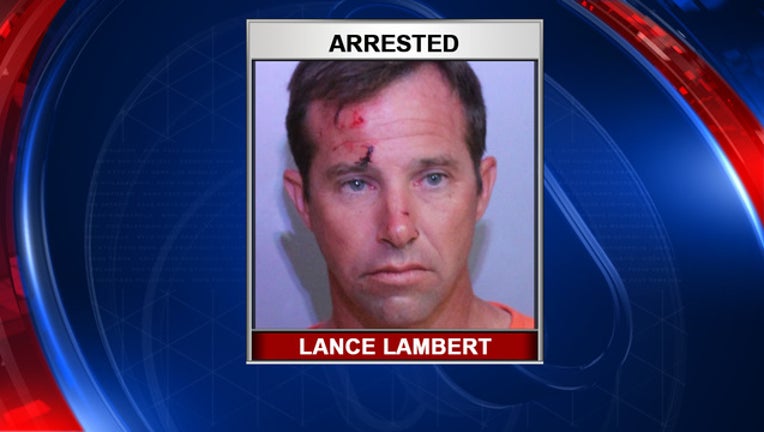 DAVENPORT (FOX 13) - A Davenport man was arrested after two road rage incidents, deputies said.
On Tuesday, Polk County deputies arrested 41-year-old Lance Lambert. One of the road rage victims Lambert stopped in the middle of a lane during a green light. The victim asked if he was alright and Lambert said, "yes."
Deputies said Lambert "suddenly began screaming and threatening to shoot him," according to the victim. Then, Lambert rammed his pick-up truck into the victim's SUV, pushing against the passenger side. The second victim said Lambert crashed into his FedEx truck. 
Both incident occurred in the area of Ronald Reagan Parkway and U.S. Highway 27 in Davenport. A deputy first heard tires squealing, then noticed a pick-up truck pushing against the passenger side of an SUV. 
Deputies said Lambert fled and parked in a nearby shopping plaza. According to the Polk County Sheriff's Office, the deputy approached Lambert, who began yelling at him. The deputy called for back-up and Lambert was taken into custody. 
Inside his vehicle, deputies said they found marijuana and unknown pills, which will be tested.  He was transported to the hospital for injuries -- possibly from the vehicle crashes -- then taken into custody. There were no other injuries.
"We're glad no one was severely hurt in this case of road rage," said Polk County Sheriff Grady Judd in a statement. "Thankfully, our deputy heard the incident and quickly responded to get this man under control before he did hurt someone."
Lambert was arrested on several charges including aggravated battery and possession of cannabis. Deputies said he has a criminal record, and served time in state prison. He has previous drug-related charges.