Sandbags available ahead of Hurricane Michael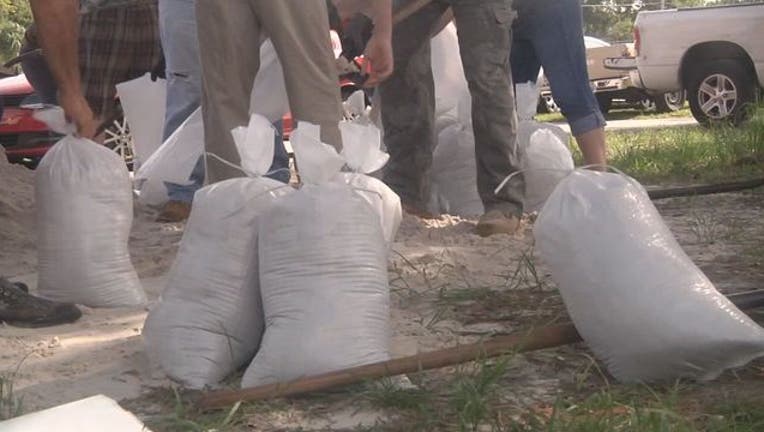 article
TARPON SPRINGS (FOX 13) - Some Bay Area communities are making sandbags available to residents now that Tropical Storm Michael has reached hurricane strength and is expected to get even stronger before hitting the Florida Panhandle.
The storm's projected path shows Michael staying west of peninsular Florida, making a landfall somewhere along the Panhandle on Wednesday.  Under that track, the Tampa Bay area would still experience some wind, rain, and some coastal flooding.
A storm surge watch and tropical storm watch are in effect for the Tampa Bay area.
LINK: See more models on MyFoxHurricane.com
Here's where you can get sandbags if you need them:
CITY OF CRYSTAL RIVER:
- Crystal River Fire Station; 650 NW 3rd Ave, Crystal River, FL 34428 
CITRUS COUNTY:
- 4508 S. Grandmarch Ave. Homosassa (Near Grover Cleveland Blvd.)
- 7490 W. Gulf to Lake Hwy. Crystal River (Near Dan's Clam Stand - on opposite side of road) 
TARPON SPRINGS:
Sandbags can be picked up starting 10 a.m. Monday at the following locations: 
- Tarpon Springs Splash Park Parking Lot - Live Oak Street at Safford Avenue
- Dodecanese Boulevard at Roosevelt
- Dorsett Park - E. Harrison Street at S. Levis Avenue
PASCO COUNTY
Sandbag operations will begin today, Monday, October 8, 2018, for Pasco County residents only.  The following locations will be open 24 hours a day, until further notice:
- Fire Station #17, 2951 Seven Springs Blvd, New Port Richey (Opens at 1 p.m.)
- Veterans Memorial Park, 14333 Hicks Rd, Hudson (Opens at 1 p.m.)
- Magnolia Valley Golf Course Clubhouse, 7223 Massachusetts Ave, New Port Richey
- C-Barn, 30908 Warder Road, San Antonio
MANATEE COUNTY
Residents may pick up as many as 10 sandbags between 8 a.m. and 7 p.m. Tuesday at:
- G.T. Bray Park, 5502 33rd Ave. Dr. W., Bradenton
- Bennett Park, 400 Cypress Creek Blvd.
- Bradenton Area Convention Center, 1 Haben Blvd.
HOLMES BEACH
- Sand bags are available at City Hall and the Police Department for Holmes Beach residents.