After 9-hour shutdown, southbound I-75 reopens following deadly pedestrian crash in Pasco County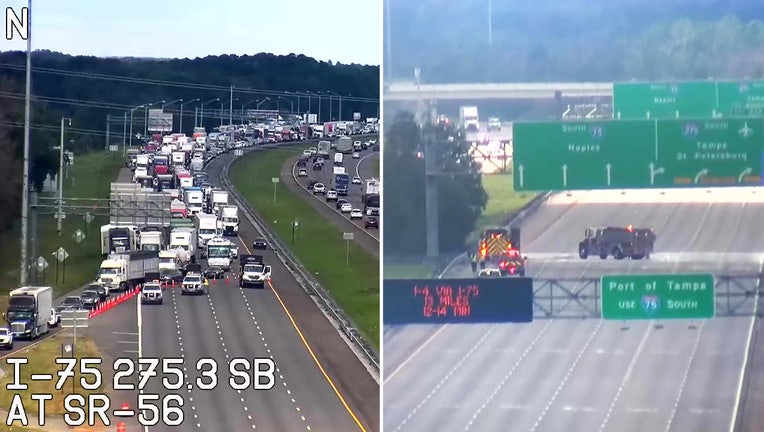 WESLEY CHAPEL, Fla. - For more than nine hours on Thursday, traffic was at a complete standstill in the southbound lanes of Interstate 75 in Pasco County for a deadly crash investigation involving a pedestrian.
According to Florida Highway Patrol, the road closed just north of the Interstate 275 apex after the crash happened just after 5 a.m.
FHP said the unidentified pedestrian, a 41-year-old man from Tampa, was driving southbound with his 20-year-old son when his 2002 Ford Expedition became disabled near mile marker 274. They pulled the SUV over onto the highway shoulder and exited the vehicle.
Troopers said the man then attempted to cross I-75 on foot, but was hit by a van, then an SUV, and then a pickup truck. All three drivers pulled over after the crash. Aerial footage from SkyFOX showed a white van with severe front-end damage.
The man died at the scene, FHP said.
The highway had been closed for hours due to the death investigation, with all vehicles being diverted off of the road at exit 275 onto State Road 56.
At one point, traffic was jammed back to exit 285 — about a 10-mile-long backup.
The highway reopened just after 2:30 p.m.