St. Pete woman walking in crosswalk killed in hit-and-run crash; police search for driver
ST. PETERSBURG, Fla. - A St. Petersburg woman was in a pedestrian crosswalk when she was struck and killed by a vehicle. Police said the driver fled, and they are now searching for the suspect.
The deadly hit-and-run occurred around 2:15 a.m. in the 1800 block of 34th Street South. Police said the unidentified driver of a blue 2006 Lexus RX330 was heading north while 28-year-old Cassandra Gelineau was walking from west to east. 
Investigators said she was in the south crosswalk at the intersection of 15th Avenue South and 34th Street South. That's where she was struck by the front of the vehicle.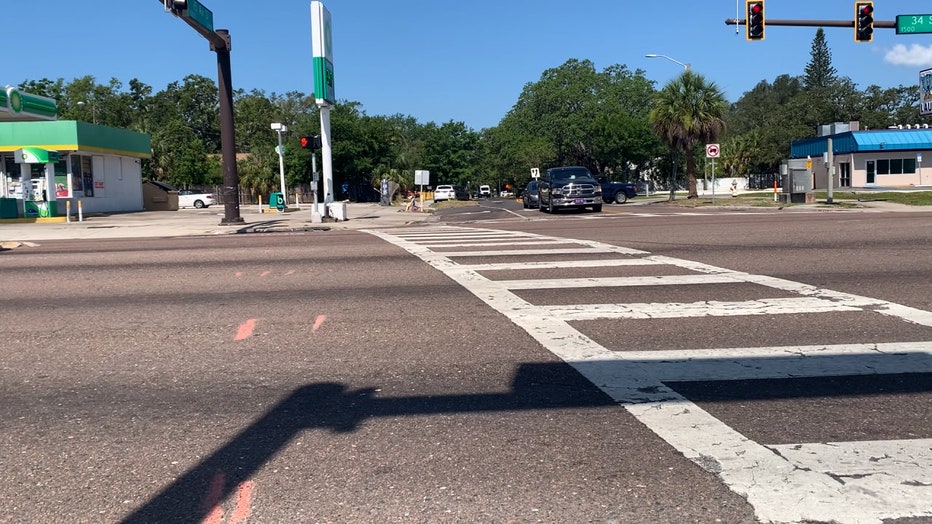 Image shows the intersection and crosswalk where the deadly hit-and-run occurred. This photo was captured hours after the scene was cleared.
Police said the Lexus was found later in the area. 
READ: St. Pete man pleads not guilty to killing woman, missing toddler found in alligator's mouth
Gelineau died at the scene, officials said. She would've turned 29 years old on May 31.
Anyone with information is asked to call the St. Petersburg Police Department at 727-893-7780.