Welch declares victory in St. Petersburg mayoral race
ST. PETERSBURG, Fla. - After seven years of Rick Kriseman at the helm, residents in St. Petersburg, so far, seem to agree to let his policies and priorities continue through a new candidate. 
As the polls close and early returns come in, Mayor Rick Kriseman's favored successor, Ken Welch has declared victory in the city's mayoral race. If elected, Welch would be the city's first Black mayor.
Live results:
READ: Demolition of old St. Pete police headquarters begins, paving way for mixed-use development
In a race that began with a crowded field, the runoff election came down to the former Pinellas County Commissioner and St. Pete City Councilman Robert Blackmon.
In a statement released just after 7 p.m. Tuesday, Welch thanked his supporters.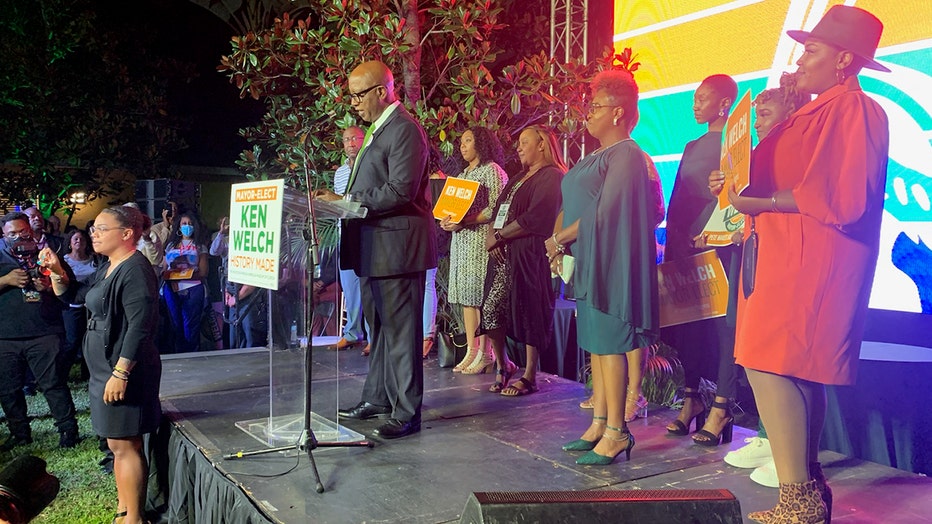 Ken Welch declares victory in St. Pete mayoral race
"Because of each and every one of you here today we have made history. But this election is not about me, it's because of the giants that came before me— it's because of the inclusive progress we are working towards and that's why we're all here today," Welch's statement said, in part.
Welch, a registered Democrat, has earned endorsements from several prominent Bay Area leaders including current Mayor Rick Kriseman, Tampa Mayor Jane Casto –  both Democrats – as well as Pinellas County Sheriff Bob Gualtieri, a Republican.
"You play to the last whistle, and we are going to continue to run right until the last ballot is cast 7 p.m.," Welch previously told FOX 13.
Welch points to his track record as a commissioner, creating workforce housing. Blackmon says, unlike his opponent, he isn't a career politician and has a cheaper plan to fix St. Pete's aging city marina.   
Blackmon touted himself as a fiscal conservative. The latest poll showed him trailing Welch by 16 points, according to Florida Politics. 
"A poll like that excites me," Blackmon told FOX 13 Wednesday. "I like the idea of being the underdog. It's always the position you want to be in. I'm always happy to have people underestimate me." 
Both candidates ran on platforms of reducing crime, creating more affordable housing, and redeveloping the Tropicana Field site.
St. Pete is made up of about 88,000 Democrats, 50,000 Republicans, and 52,000 independent or third-party voters.