State lawmakers expected to put 6-week abortion ban on legislative fast-track
TAMPA, Fla. - Florida Republican lawmakers introduced a six-week abortion ban this week, leading the legislature to discuss one of its most controversial topics this session.
The state's timeline for abortions took a nosedive in last two years, going from allowing up to 24 weeks for the procedure down to 15 weeks in 2022. Now there's a move to narrow the scope even further to six weeks. 
"Every one of us were children once. Our ability to enjoy life, liberty and the pursuit of happiness-began with life," said Florida House Speaker Paul Renner (R-District 19).
MORE: 'We won't go back': Abortion rights activists rally 50 years after Roe
Introduced on Tuesday, Senate Bill 300 would restrict abortions past six weeks of pregnancy with exceptions for victims of rape and incest with proof of the crime. 
A period happens every 4 weeks, so Dr. Robyn Schickler explained the impact.
"Most people don't even know they're pregnant until about then. They miss their period around 4 to 5 weeks," said Robyn Schickler, an OBGYN and chief medical officer with Planned Parenthood of Southwest and Central Florida. "By then you would probably take a pregnancy test and then depending on what you want to do, getting in to [see] the doctor could take another week or so. Then, that would put you at it six weeks or even further if it takes longer to get in."
The newest 15-week restriction has put a strain on clinics.
"Our volume is very high. We are seeing mostly Floridians. I know our sister affiliate is seeing more out-of-state patients," said Schickler.
That's because women coming from neighboring states in the deep south see Florida as their closest option.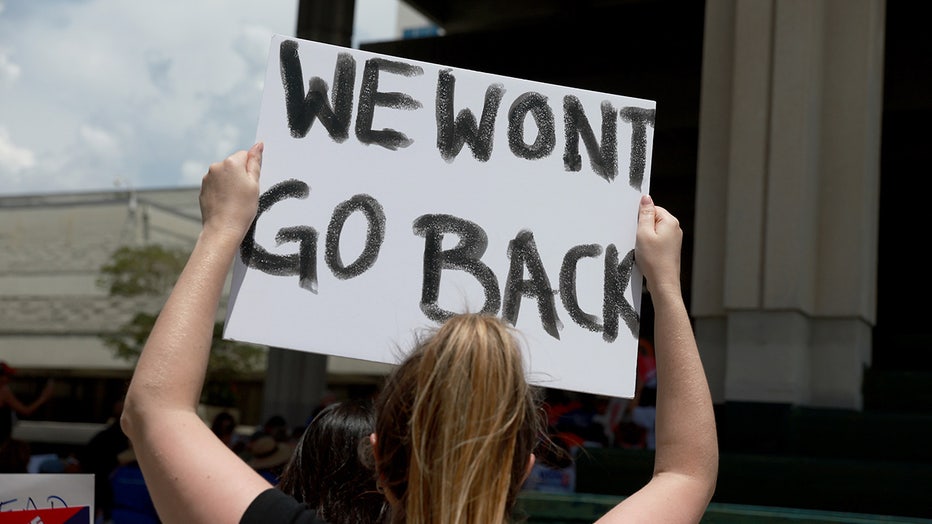 FORT LAUDERDALE, FLORIDA - MAY 07: Abortion-rights supporters rally on May 07, 2022 in Fort Lauderdale, Florida. A leaked draft opinion by Supreme Court Justice Samuel Alito has suggested that the Court is poised to overturn Roe v. Wade, the landmark
"We're the only state in the deep South that offers care up to 15 weeks and so this near-all out ban which a 6-week ban is, will not only have terrible negative impact on Floridians, but it will have this impact on people throughout the South," said Amy Weintraub, the reproductive rights program director of Progress Florida.
Republican lawmakers said the bill protects lives even further.
"We must defend the right to life of thousands of boys and girls who deserve to experience life, find love and enrich the lives of others," said Renner.
For those on the other side, protecting lives also includes protecting health care access.
"The latest polling shows 64% of Floridians believe that abortion should be legal in all or most cases. This type of policy just doesn't line up with that," said Weintraub.
There is a lawsuit challenging the state's current ban on abortions after 15 weeks. The proposed bill states if it becomes law, the bill will go into effect after the state supreme court rules on that lawsuit. 
Pro-choice supporters said they expect the bill to get fast tracked in the coming weeks, so they are watching it closely.