Stolen guns recovered during arrest of teens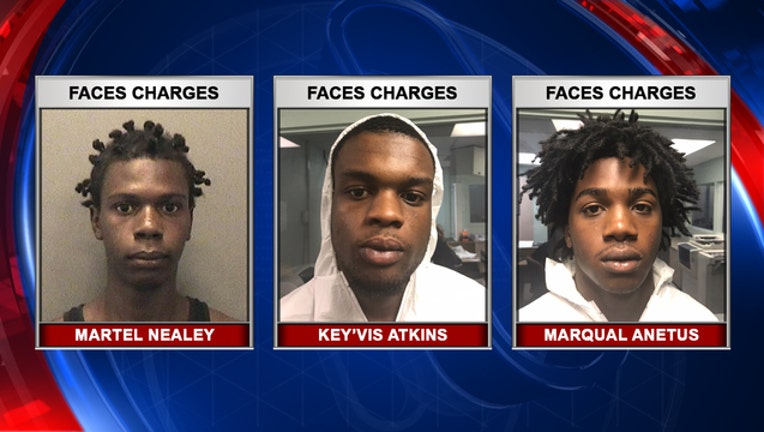 WINTER HAVEN (FOX 13) - Three more young people, an 18-year-old and two 17-year-olds, have been arrested in Polk County for crimes involving guns, burglary, drugs, and other felonies. 
The arrests come on the same day three other juveniles were arrested for similar crimes in Bartow and just a few days after three teens died when a vehicle they were suspected of stealing crashed in Pinellas County.
The Polk County Sheriff's Office says the three most recent arrests resulted in the recovery of two firearms reported stolen in Hillsborough County. All three suspects are known to law enforcement, according to Sheriff Grady Judd. 
"Two of these suspects have extensive criminal histories. Another has a previous burglary and a grand theft charge. Our juvenile justice system is failing to hold these kids accountable. Our citizens' lives and property are at risk when juvenile criminals run rampant," Judd said in a press release.
Arrested were 18-year-old Martel Nealey, of Riverview, 17-year-old Key'vis Atkins, of Riverview, and 17-year-old Marqual Anetus, of Tampa. 
The arrests happened just after 2:30 a.m. Thursday. PCSO says its K-9 and Aviation units helped Winter Haven PD find the three suspected vehicle burglars in the Normandy Heights Subdivision, where the suspects allegedly ran from a WHPD Sergeant.
K-9s tracked the suspects between two houses, by a retention pond, and into someone's back yard, where a handgun was found. Deputies found another handgun at the fence leading into Shipp Reck Harper Mobile Home Park.
Two of the suspects were spotted by the Aviation Unit as they jumped a fence and ran into a carport. The K-9 team was close behind and the suspects eventually surrendered.
The third suspect was found in a plastic trash can on the side of a home, where he was arrested. One of the suspects had an empty handgun holster on his waistband, according to deputies.
The investigation and suspects were turned over to Winter Haven PD.
Nealey faces charges of armed conveyance burglary, resisting without violence, and contributing to the delinquency of a minor. Atkins faces charges of armed burglary, possession of a firearm by a minor, and robbery with a firearm, possession of a firearm by a convicted felon, and resisting a law enforcement officer without violence. Anetus faces charges of armed conveyance burglary, resisting without violence, possession of marijuana, possession of paraphernalia, and possession of a firearm by a minor.