Superintendent says he will resign if given new job with $170K salary; says it's not a 'golden parachute'
SARASOTA, Fla. - At the center of a special school board meeting in Sarasota County, Superintendent Todd Bowden and his lack of action after Cheraina Bonner came forward with allegations of sexual harassment.
There was tension from the start and it escalated to outbursts, tears, and pleas from the residents of Sarasota County.
"This is a shame. You are a supporter of sexual harassment. You're a pig," a man yelled at the board and, as he was being escorted out by officers, added "Give him a new job? Are you kidding me? Give him a new job?"
The board was trying to decide if Bowden is suited to run the district based on his inaction after Assistant Superintendent Jeff Maultsby was accused of sexual harassment. Alternately, Bowden said he would accept a "compromise" which includes a different job and a $175,000 salary.
The fuse for Tuesday's fireworks was lit when a report showed Superintendent Bowden did nothing after Bonner revealed late-night texts, messages, and videos sent to her by Maultsby. A 200-plus-page investigation backed up her claims of harassment. It is also highly critical of Bowden's lack of action. 
The board, however, seemed split on how to act on the superintendent's status.
"Now it's almost like a side freak show, it's gotten to a level that is embarrassing. I am very disheartened by that," said School Board Member Bridget Ziegler, almost coming to tears. "There is a reality that confidence is gone."
Board members Caroline Zucker and Shirley Brown spoke in support of Bowden.
Bonner let her disappointment be known.
"You don't know what I've been through. You look at me like I don't exist. You don't even speak to me in the mornings. You don't do anything," Bonner yelled from the center of the room, pointing toward Zucker. "Caroline, I respected you until you went under oath and lied!"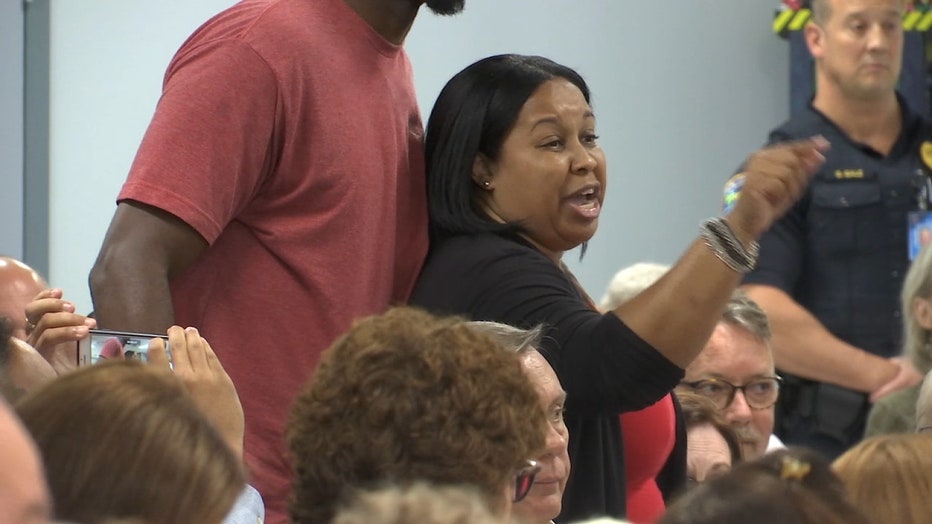 Cheraina Bonner accused Sarasota School Board Member Caroline Zucker of lying under oath.
After the report was made public last week, Maultbsy resigned. Now some of the board members are calling for Bowden to resign, too.
He told them he would step down as superintendent, as long as he would be:
placed on paid suspension until the end of the year;
given a new position as an executive director of facilities;
given a salary of $175,000;
given $5,000 for his doctoral degree.
"This isn't a golden parachute," Bowden said. "This is a compromise."
For now, Dr. Bowden keeps his job. The board gave him a 30-day notice for a meeting on Dec. 10 to decide whether he will stay or go.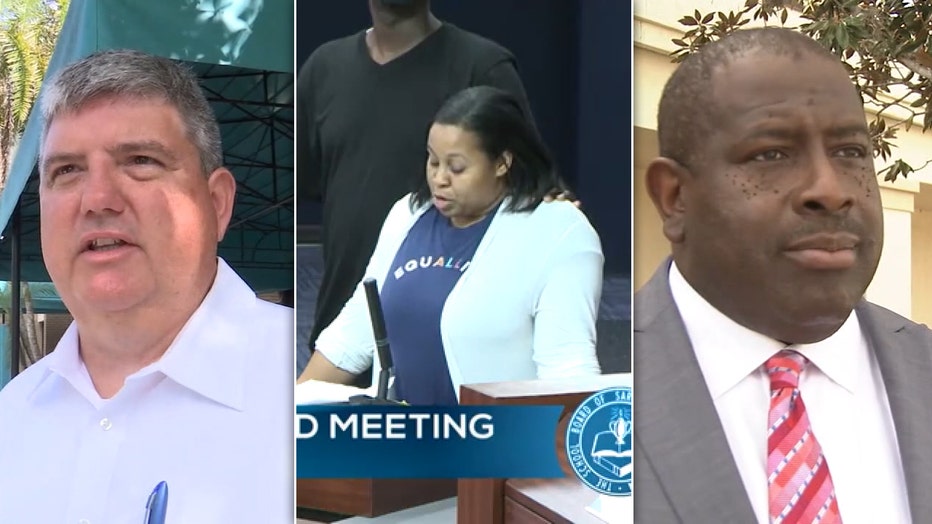 Pictured from left to right: Superintendent Todd Bowden, Cheraina Bonner, and former assistant superintendent Jeff Maultsby