Tampa family reunites with woman who saved 10-day-old daughter with CPR at Riverview restaurant
TAMPA, Fla. - A happy and healthy four-month-old Scarlett reunited with the woman who saved her life back in October.
When Scarlett was just ten days old, she turned blue and pale while sitting at a restaurant with her family. Scarlett's parents called out for help, and a restaurant patron jumped into action. The woman started performing CPR on little Scarlett and brought her back to consciousness before paramedics arrived at Fred's Market in Riverview.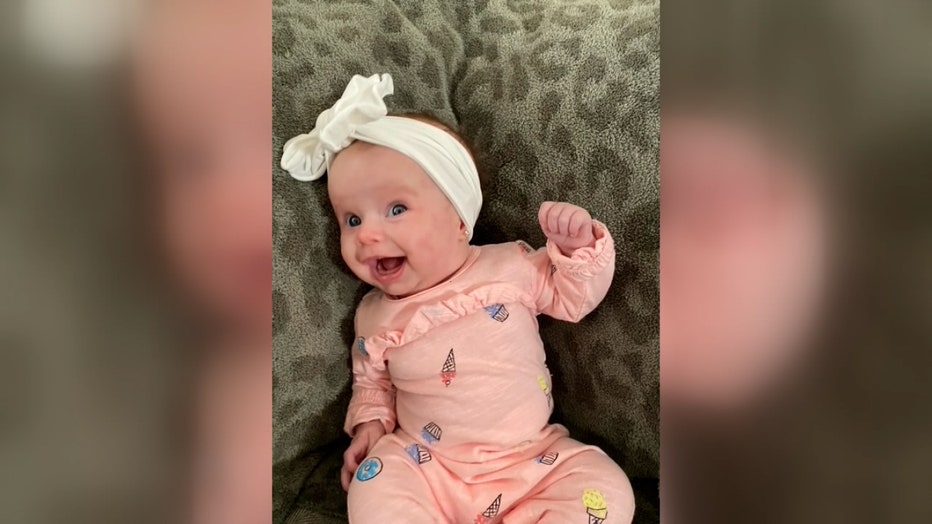 Photo of Scarlett provided by the Graham family
"Still, every time I think about it makes me tear up. It's just something I'm going to hold dear to my heart," said Kourtney Newby, who performed the CPR.
With all the commotion after the incident, Scarlett's family never got to connect with Newby. So, for the last three months, they've wondered who the woman was.
PREVIOUS: 'Get certified': Stranger saves 10-day-old baby with CPR at Riverview restaurant
They wanted to find her. Leanna Graham, Scarlett's mother, posted about the scare on Facebook. Then, FOX 13 interviewed her two weeks ago. Graham said she hoped the story would be shared and whoever saved her daughter would see it, and reach out.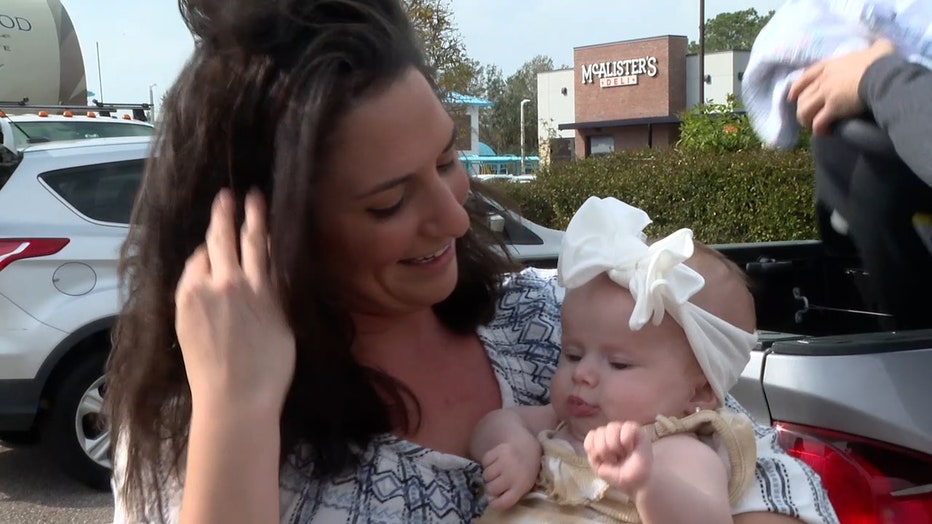 Kourtney Newby is seen holding baby Scarlett
"I know she left that night going home, telling friends like, 'Oh my gosh. I can't believe what I just did,'" Graham said. "I knew she was going to tell people and the word was going to get out."
Newby said she couldn't stop thinking of the baby girl she performed CPR on – and wondered how she was doing after that day in the restaurant.
"She's been something that's been on my mind every day since October, and it's just amazing that I can actually hear about her and know she's OK," Newby said.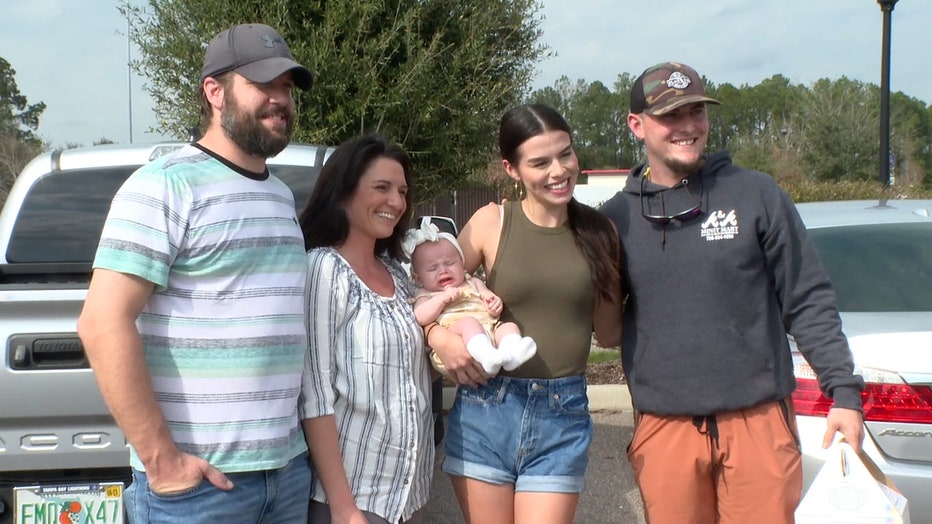 Newby's friend saw the FOX 13 story when it aired. Then, her husband reached out to set up a meeting.
Weeks later, Newby, the Grahams and little Scarlett were all reunited on Sunday.
"Kourtney will always be in our family," Graham stated. "Even though – I think they're in the process of moving – she'll always feel dear to my heart and hopefully she can see my daughter grow up. That'll be awesome."
It's a story with a happy ending and a very powerful message.
"I just couldn't believe that I'm capable of saving a little baby," Newby said. "All I can do is just urge people to get certified. You never know when you'll be this angel they call me. I don't think I'm an angel but, you know, these things change you."