Fire causes significant damage to South Tampa apartment near Bayshore Blvd
TAMPA, Fla. - Tampa firefighters responded Tuesday afternoon to a massive apartment fire near Bayshore Boulevard. 
Bright orange flames and heavy plumes smoke billowed from the roof of the Kansas Street Apartments. It was tense for people living there and as they waited outside watching for hours as firefighters worked to put it out.
"It was a lot of smoke, and you couldn't really see anything, to be honest," resident Ava Russo said. "There's a lot of cars. But you just saw like the fire hoses trying to put everything out as quick as they could. Definitely scary."
Tampa Fire Rescue arrived at the apartment complex near South Carolina Avenue and West Kansas Avenue around 2:30 p.m. after several people called 911 to report smoke coming from the roof.
Tampa firefighters ae responding to a second-alarm apartment fire in the Bayshore District.
"It was white smoke, and then it started to build as the fire seemed to have gained some strength," Tampa Fire Rescue Public Information Officer Vivian McIlrath said.
Firefighters said South Carolina Avenue near West Kansas Avenue was closed temporarily while crews work to put out the flames. 
By 4 p.m. at least seven engines were on scene and because of the extreme heat outside it was upgraded to a 2-alarm fire. For hours, fire rescue worked to put out the fire using two aerial units with firefighters up above spraying hoses down below on to the roof.
"The type of roof structure is what's causing it to continuously build, and we just continue to extinguish it as best as we can," McIlrath said.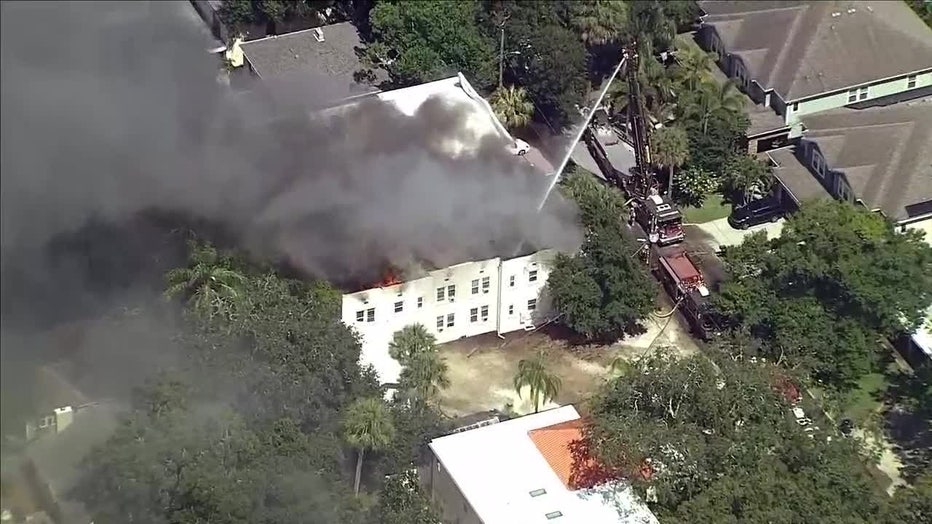 Firefighters are currently extinguishing fires on the roof, according to TFR. There were no injuries and fire rescue said everyone inside did make it out safely.
The damage is significant. There are massive holes on the roof and clean up will take a while. The Red Cross is helping the people who lived at the apartment to find a place to stay tonight.
As for a potential cause, there were renovations and electrical work going on inside when the fire started—but it is too soon to tell if that played a role.