Three wounded in Tampa bowling alley shooting, police say
TAMPA, Fla. - Three people were wounded in a gunfight outside a bowling alley in Tampa Sunday. Pin Chasers bowling alley on N. Armenia Avenue in Tampa Sunday night. 
Witnesses say the first shot rang out shortly after 11 p.m.
"All of a sudden there was like a firecracker," said Jacob, a 19-year-old customer who asked us not to use his last name. "You could have heard a pin drop. Everyone was silent."
But he said seconds later, the shooting started again.
"The glass sliding doors were shattered, there were bullets holes all around it. The bar had a bullet going through it. the bartender said a bullet went right by her head."
Jacob says he and others near him couldn't find an emergency exit, so he ran into a bathroom with three other men and a young woman. 
"The girl was in the stall crying and talking to her mom. I got in front of the door and tried to barricade it. "
He could hear the gunfight outside. "There were bullet shells all over the ground. There were holes in the cars, one of the windshields was shot." 
Police say there were multiple shooters in two groups that knew each other. As they passed in the parking lot there was an altercation. 
"That altercation led to gunfire and shots being fired from both sides. Some of the involved parties did seek refuge back in the Pin Chasers," said Major Eric DeFelice of the Tampa Police Department.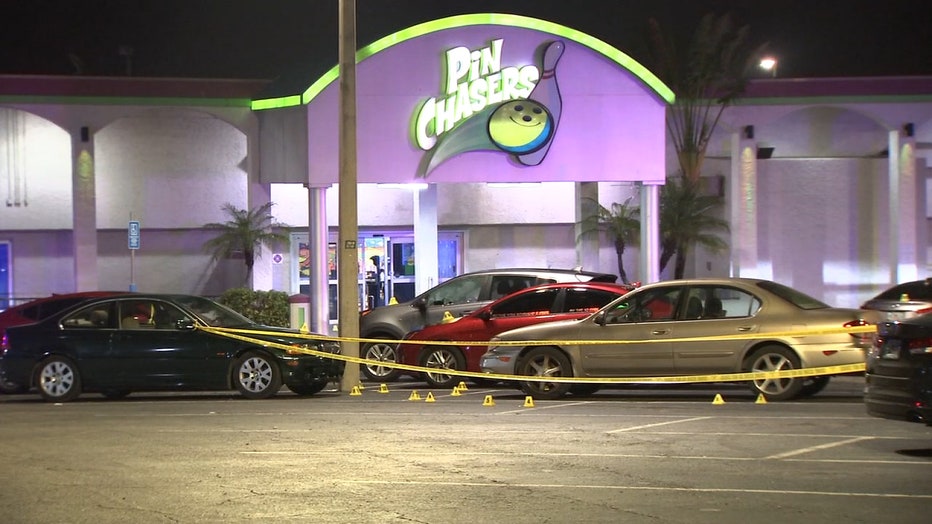 One innocent bystander was wounded inside the bowling alley. Two others who were wounded in the gunfight sped off in a car. Police found them at St. Joseph's hospital. Police say they found a gun on one of them and another gun in the car. 
Jacob couldn't wait to get home Sunday night. "It's just nice to hug the family and keep everyone close because you never know what can happen at any time," he told us.
Police have arrested 21-year-old Cedrick Deshawn Durham, Jr. He is charged as a felon in possession of a firearm and discharging a firearm in public.
They also have a person of interest and they expect more arrests. Investigators said they anticipate more arrests, and are asking for any witnesses to come forward.
The owner of Pin Chasers says they've been in business for decades and nothing like this has happened before. He says they are temporarily closing earlier, reviewing security plans, and will hire off duty police officers.
Police say all three people who were wounded will be OK.