Tampa River O' Green Fest rescheduled for St. Patrick's Day due to Saturday's forecast
TAMPA, Fla. - Due to inclement weather on Saturday, Tampa city officials have rescheduled its St. Patrick's Day event to be held on St. Patrick's Day.
The annual River O' Green Fest was slated for Saturday, March 18, but as of Tuesday, there is a 70% chance of rain. Therefore, city officials announced it will be bumped up one day due to the forecast.
The event will now be held from 4 p.m. to 10 p.m. at Curtis Hixon Park. Attendees can enjoy live music, family-friendly activities, food trucks, and, of course, green beer. At 4 p.m., the portion of Hillsborough River adjacent to the park will turn bright green.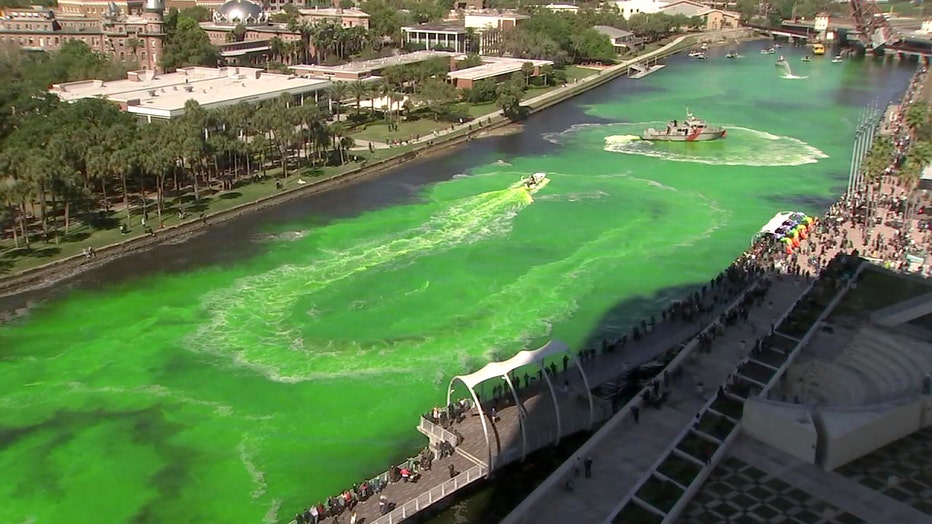 Hillsborough official test the green dye in this undated aerial image. (FOX 13 News)
Officials use a dye that is non-toxic and biodegradable for a small portion of the river that barriers the park.
READ: Giant 5,000-mile-long seaweed bloom takes aim at Florida
"The safety of all our guests and vendors is of the utmost importance," said Tampa Downtown Partnership President and CEO Lynda Remund. "With storms in the forecast on Saturday, we decided it was in everyone's best interest to reschedule. The blessing in disguise is now we get to host the River O' Green Fest on St. Paddy's Day! We haven't had the event on the actual holiday since 2018. It'll be a great way for families to kick off the weekend and wrap up spring break." 
For more information, head to the city's Facebook event.