Teacher accused of hiding cameras in changing rooms since 2017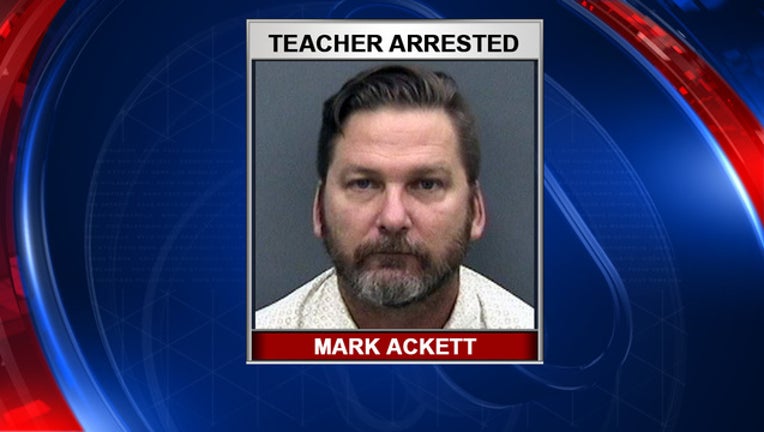 VALRICO (FOX 13) - Mark Ackett, a teacher at Bloomingdale High School, admitted in court he planted cellphones in his class changing room and covertly taped multiple underage students taking off their clothes. Something he tells Hillsborough County detectives he's been doing since January 2017.
Teens in Ackett's fashion design course tell FOX 13 News they feel betrayed.
"I changed in there quite often. We made dresses for each other and we used to change in there all the time," Destiny Garner, a junior at the school, said.  "He actually made us bandeaus to go under our dresses that we used to have to try on see if they fit us and stuff."
Ackett was caught last Tuesday. According to search warrant affidavits filed in the case, a 17-year-old student was in her underwear in the dressing room when she spotted cellphones hidden inside two separate boxes with just the camera lenses visible.  At least one of the phones was recording.
The documents say numerous videos and photos of female students changing were found on the pair of phones.
Investigators also seized Ackett's school-issued desktop computer, a tablet, his laptop, three digital cameras, and about ten storage and memory devices from the classroom.
"He has all these, you know, kids that are, they're supposed to be able to trust him," said parent Donna Howard.  "I don't like it at all, but at least he's not here anymore."
Ackett resigned immediately after he was confronted, ending a 27-year career with the district.
So far, the 49-year-old is facing one felony charge of video voyeurism.
"We are shocked by this and really disgusted by these allegations," Hillsborough County Public Schools Spokesperson, Grayson Kamm, said.
Ackett is out on bond.  FOX 13 News stopped by his house, and reached out to his lawyer.  Neither of them wanted to comment.