TGH employee brings Christmas gifts to children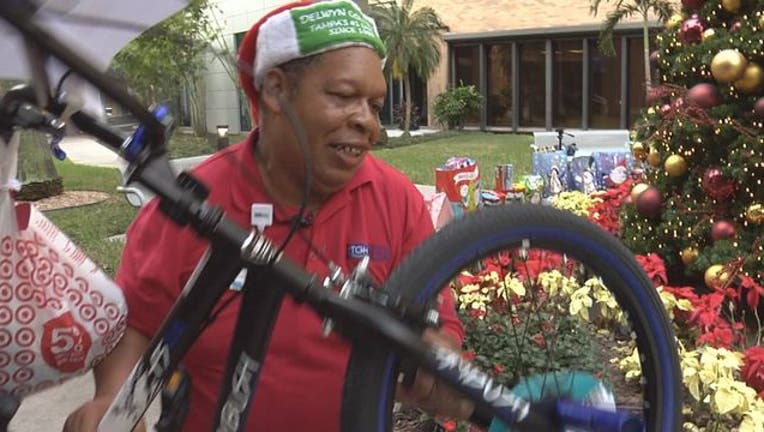 TAMPA (FOX 13) - A dishwasher at Tampa General works year-round to make sure the hospital's youngest patients have gifts to open Christmas morning. 
Delwyn Collins started buying Christmas presents for foster children 26 years ago, and he never stopped. Now, he and his helpers put hundreds of presents under the tree at TGH. 
"It makes me feel good on the inside knowing I do something for the community that other people don't do," Delwyn explained. "I hope they get joy and happiness out of this whole thing."
And the pile of gifts just keeps growing. Delwyn said he doesn't have a lot of money, but for most of the year he has an elf's mentality -- buying bikes, footballs and games to put under the tree.
This Christmas, 37 children will open his gifts.

"Its not about how much money you got, how rich you are. It's out of your heart," Delwyn continued.
Delwyn is legally blind and rides his bike to work. He said his passion for giving to Hillsborough's Foster Angel Program has inspired the community. 
One of Delwyn's elves, Linda Attkisson, was with him from the beginning. 
"Most people would think that it is too much work." Linda said. "He enjoys it. He gets passionate to the last second."
And his generosity inspires new helpers every year. Tricia Schuster, a nurse at Tampa General joined Delwyn for the first time this year.
"Its been incredibly inspiring to me. I'm in awe of Delwyn. I'm in awe of him really and truly. He's an everyday hero for sure," Tricia said. "It really brings the true meaning of all of this home."
Sharing the season with a simple message, this reliable Santa is spreading joy to Bay Area children every Christmas.
"All I care about is the toys over here and making sure these kids have a Christmas," he added.  "That's all I care about."