Theater shooting suspect Curtis Reeves freed on $150,000 bond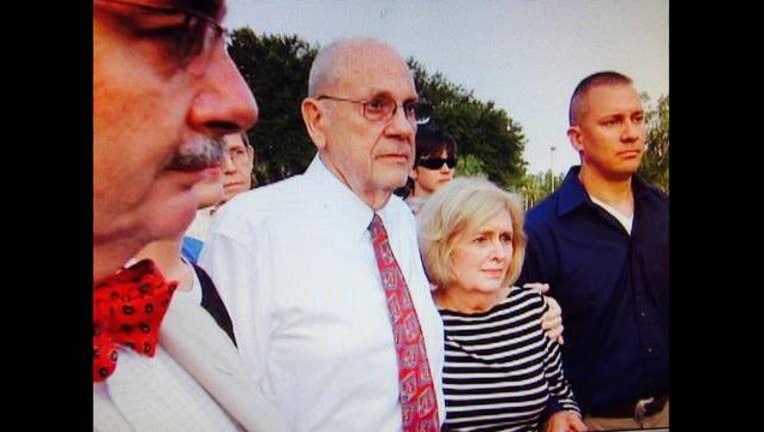 article
TAMPA, Fla. - The retired police officer accused of killing a man for texting in a movie theater was freed from jail Friday night after a judge set a $150,000 bond.
Curtis Reeves had been behind bars on a second-degree murder charge since the shooting of Chad Oulson back in January. At a court hearing Wednesday, attorneys for both sides agreed they would not be ready for trial until early next year.
Judge Pat Siracusa had refused bond for Reeves several times, meaning the 71-year-old could have faced a year in jail. But Friday, an appeals court says that was a mistake.
The Second District Court of Appeals said that Siracusa may have misinterpreted his options. The appeals court did not specifically call for Reeves to be released, but ordered Siracusa to revisit his decision.
Friday afternoon, Siracusa granted the bond.
"From our review of the record, we are inclined to believe that the circuit court made an error of law and that it did not realize it had the discretionary power to grant release on the terms and conditions it announced," the opinion explained.
The conditions of the bond include home detention, and surrendering all his firearms. Reeves also has to wear an ankle monitor for GPS tracking.
The appeals court said Reeves presented a strong case for bond during his January hearing. It said his character witnesses went largely unchallenged by prosecutors and noted he is an older defendant with no prior record, and "a long and distinguished career as a (Tampa) police officer.
The appeals court directed Siracusa to release Reeves on bond with the outlined conditions, or continue to deny bond – in which case, he would have to provide an order explaining why.
But in an amended order Friday afternoon, the judge granted bond, with the additional condition that he have no contact with Nicole Oulson , the victim's widow.
Reeves' attorney Richard Escobar said he expected Reeves to bond out Friday evening. He left the jail just after 8 p.m. flanked by several family members.
"What a wonderful day for our system of justice, and more importantly, for Curtis Reeves," Escobar said. "He's going to be home with his wife and family tonight."
The Oulson family's attorney said the victim's widow was upset with the ruling.
"To say devastated is an understatement," TJ Grimaldi said. "He is an absolute danger to society."
They issued the following statement:
"Mrs. Oulson and her family have been made aware that the Trial Court has decided this afternoon to release Mr. Reeves on the bond conditions it listed at the hearing in February. We are all deeply disappointed that the Trial Court has made this decision. While we could debate the legal merits behind this decision, none of that really matters to Mrs. Oulson. At the end of the day, the man who murdered her husband is allowed to go home, embrace his wife and children, spend time with his family, and sleep in his own bed...all of the things he permanently deprived Chad Oulson of ever doing again. As saddened as the Oulson family is today, they and we recognize the Trial Court's decision has absolutely no bearing at all on the ultimate issue in this case, that of Mr. Reeves guilt. Our confidence that he will be convicted as charged by the good people of Pasco County remains as high as ever."