Toddler with rare form of dwarfism says 'rise up'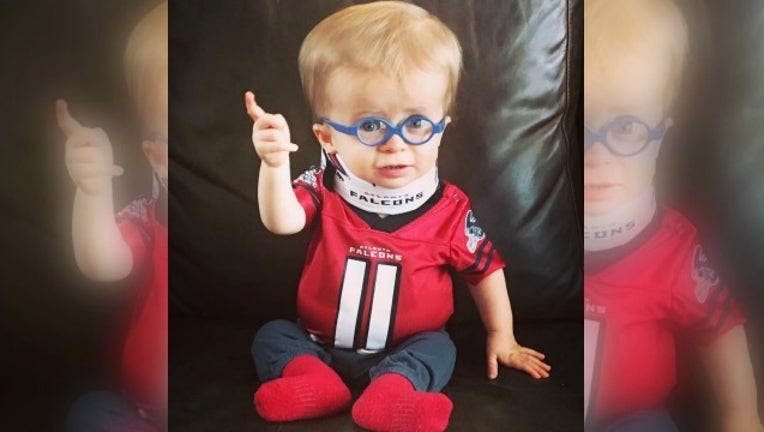 article
ATLANTA - Children's Healthcare of Atlanta shared a picture on Facebook of a young patient "rising up" for the Falcons. His name is Wyatt Keeton, and he's one of the most adorable Falcons fans ever!
Wyatt was born at 37 weeks and diagnosed with Spondyloepiphyseal Dysplasia (SED), a very rare, but not lethal, form of dwarfism.
Doctors then diagnosed Wyatt with spinal cord stenosis at 11 weeks old, which, according to CHOA, is common in children with dwarfism. CHOA says the disorder is caused by the fact that the heads of children with dwarfism are disproportionate to their smaller frames, which causes pressure on the spinal cord.
His parents were told a cervical collar would reduce the pressure on his spine.
"Wyatt's spinal stenosis is almost completely resolved, so he won't have to undergo surgery," mother Jenn Keeton said on CHOA.org. "He'll wear the brace for the foreseeable future until this is resolved. I buy fabric for the collars—all kinds of colors and themes. He must have at least 30 by now. We have fun with them."
One of those includes an Atlanta Falcons themed brace, which Wyatt is wearing in the photo CHOA shared on Facebook.
CHOA.org said Wyatt is developmentally behind for a 1-year-old. He's unable to crawl or stand; however, he's meeting all cognitive milestones.
Learn more about this brave boy here. 
The Atlanta Falcons will try for their first Vince Lombardi Trophy against the New England Patriots on Sunday.
Super Bowl LI will be played at NRG Stadium in Houston, Texas on Feb. 5 at 6:30 p.m. Full coverage can be found on FOX, starting at 11 a.m.