Tropical Storm Elsa weakens over Cuba but warnings issued for Florida
TAMPA, Fla. - Tropical Storm Elsa crossed over Cuba late Monday and had emerged back over water in the Gulf of Mexico, where conditions may allow the ragged system to organize and strengthen before hitting Florida.
With Elsa expected to ride up the west coast of Florida, tropical storm warnings have been extended northward to include Citrus, Hernando, Pasco, Pinellas, Hillsborough, Manatee and Sarasota counties. Sumter County remained under a tropical storm watch as of Monday evening.
The National Weather Service issued a flood watch through late Tuesday for the coastal areas of Hillsborough, Pinellas, Manatee, and Sarasota counties. A flood warning was issued for the Manatee River near Myakka Head at State Road 64.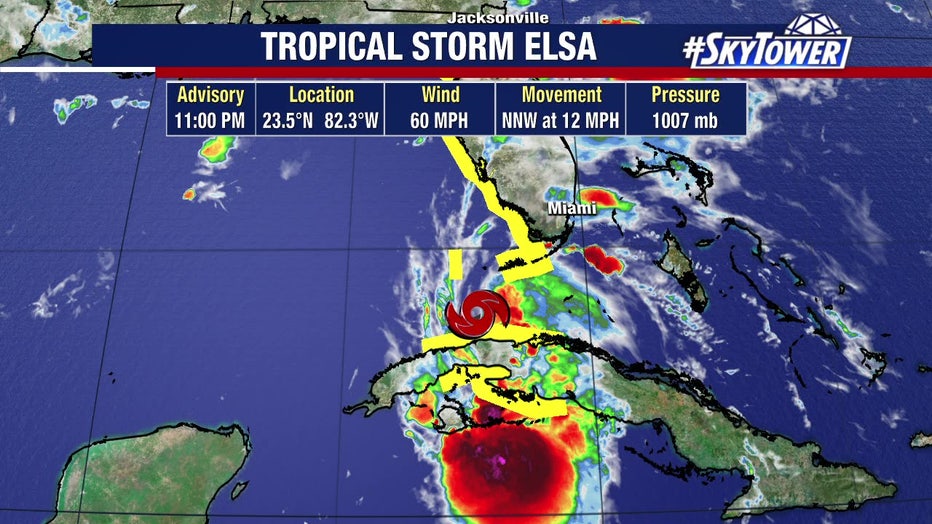 The NHC's 8 p.m. update showed Elsa had weakened over Cuba as expected, with winds down to 50 mph. But it was already back up to 60 mph as of the 11 p.m. update, moving north-northwest at 12 mph.
Once the storm fully clears Cuba, forecasters say they'll have a better idea of the impact it will have on the Bay Area. The Gulf of Mexico can provide warm water but stronger wind shear coming from the south-southwest.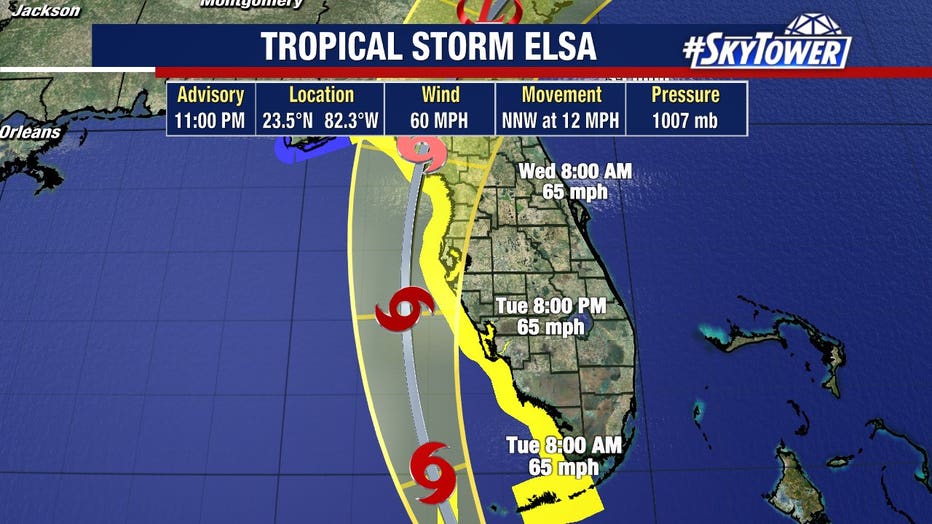 RELATED: County by county: Tropical Storm Elsa emergency information
According to Meteorologist Tyler Eliasen, there is high forecast confidence that Elsa will track near or just off Florida's west coast as it moves north. With it being a lopsided system, Elsa will bring the threat of localized heavy rainfall and isolated tornadoes to most of the Florida peninsula. 
While gusty winds will be present in many rain bands, the strongest wind gusts (generally 50-70+ mph) will be confined to areas closest to the coast.
Elsa is forecast to pass near the Florida Keys early Tuesday. Its forecast track, according to the National Hurricane Center, will have Elsa move near or over portions of the west coast of Florida on Tuesday and Wednesday.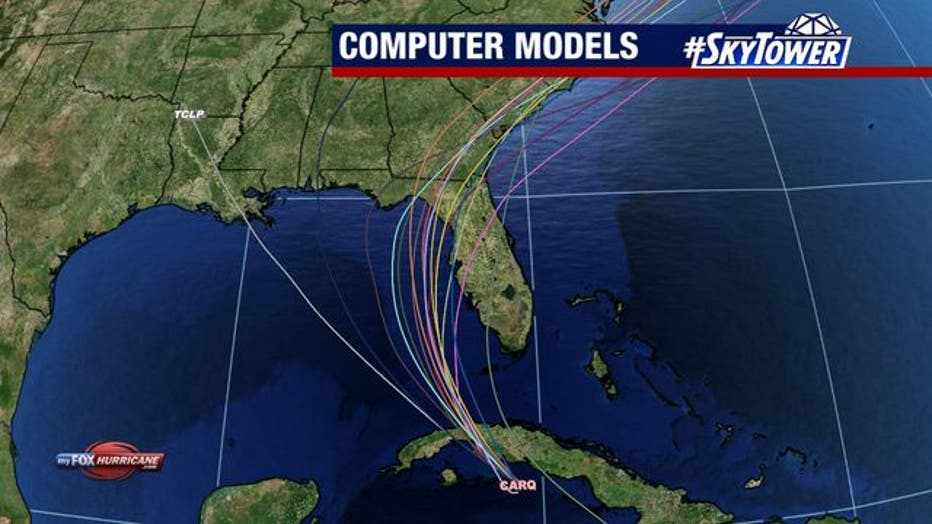 President Joe Biden issued a federal emergency declaration in Charlotte, Citrus, Collier, DeSoto, Hardee, Hernando, Hillsborough, Lee, Levy, Manatee, Miami-Dade, Monroe, Pasco, Pinellas and Sarasota counties, the White House announced late Sunday. That came a day after Gov. Ron DeSantis issued a state of emergency in the same counties.
LINK: Track Tropical Storm Elsa on MyFoxHurricane.com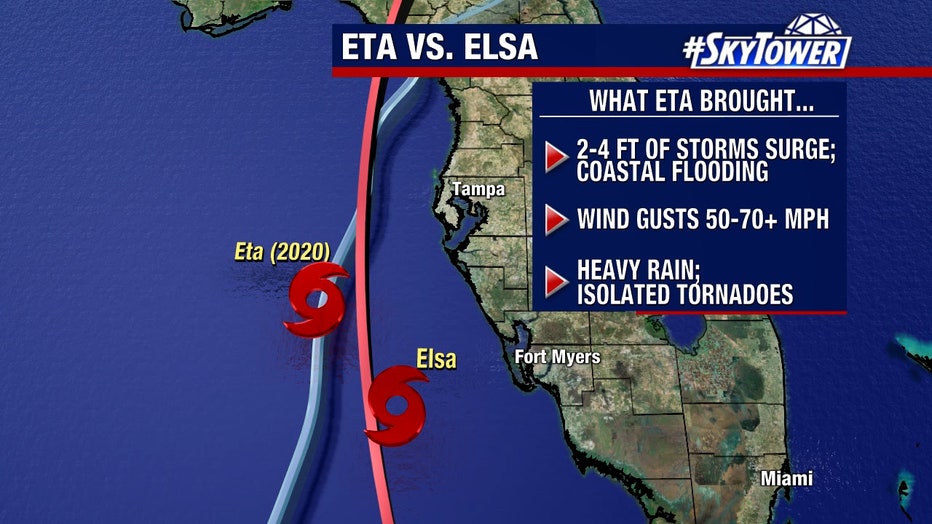 In addition, the Bay Area's coastline could see 3 to 5 feet of storm surge – similar to Tropical Storm Eta from last year. Last November, the Bay Area experienced wind gusts of 50-70 mph.
RELATED: Timeline of Tropical Storm Elsa's impacts on Tampa Bay